| | |
| --- | --- |
| | This article is the original content of AppNee. All rights reserved. To repost or reproduce, please make a footnote with our article link! |

ARTeam had gone, but the value of Unpacking Tutorials & Scripts it left us is lasting and still valuable, yes at least in AppNee's view. This is a big package of 244 tutorials for learning about reverse engineering skills, including Unpacking, Patching, Cracking, Keygening, etc.
If you are struggling to find similar tutorials everywhere on the Internet, then you just came to the right place. In addition to Tuts 4 You community unpacking tutorials & scripts collection, ARTeam Unpacking Tutorials & Scripts AIO collection is another software cracking tutorials collection very worthy of collection. It did take CriticalError a lot of time and effort to collect, sort out them all and finally share it out. So, we do hope everyone cherish and appreciate it.
At last, AppNee reminds everybody here: the hardest part of learning reverse engineering/software unpacking/cracking is just the very beginning. In fact, everything is so. Like one old saying: All things are difficult before they are easy, but once the door is opened, nothing can beat you. You can trust AppNee!!!!!!!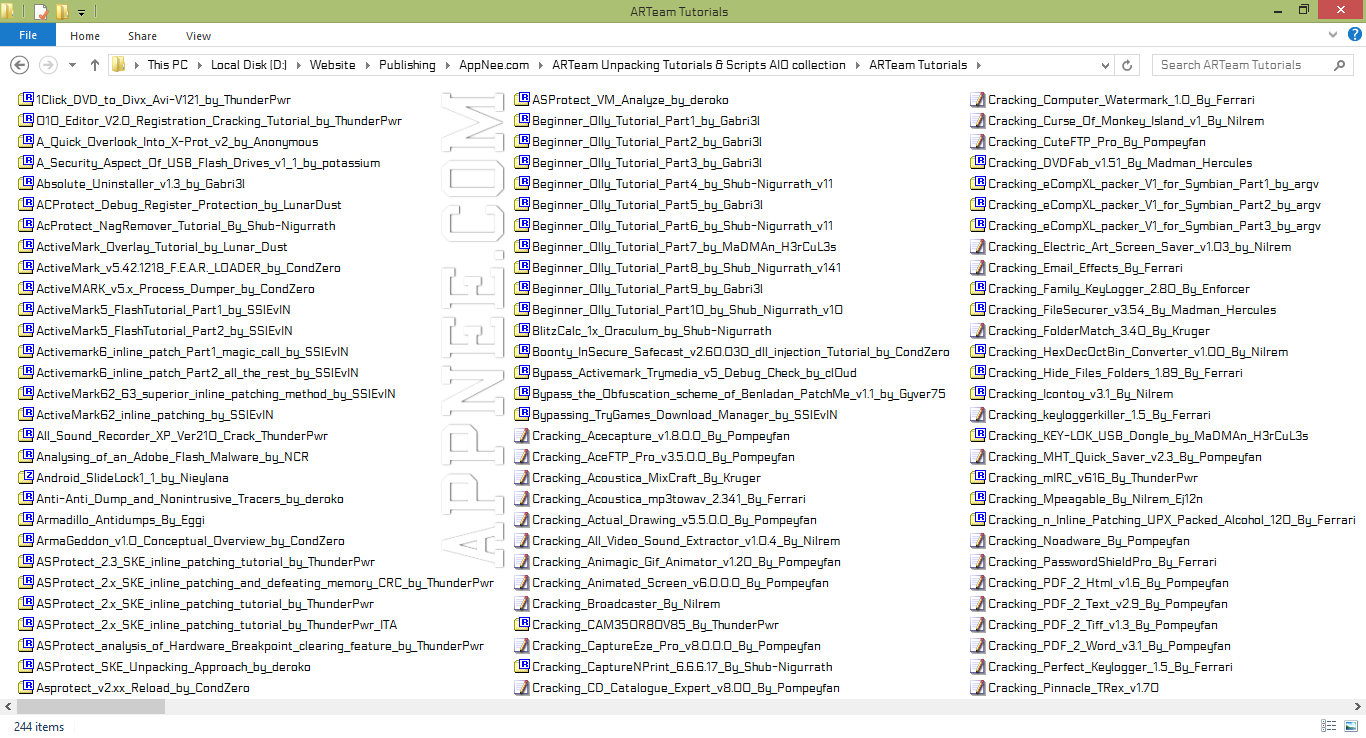 // All Tutorials List //
ActiveMark5_FlashTutorial_Part1_by_SSlEvIN
ActiveMark5_FlashTutorial_Part2_by_SSlEvIN
Activemark6_inline_patch_Part1_magic_call_by_SSlEvIN
Activemark6_inline_patch_Part2_all_the_rest_by_SSlEvIN
ActiveMark62_63_superior_inline_patching_method_by_SSlEvIN
ActiveMark62_inline_patching_by_SSlEvIN
All_Sound_Recorder_XP_Ver210_Crack_ThunderPwr
Analysing_of_an_Adobe_Flash_Malware_by_NCR
Android_SlideLock1_1_by_Nieylana.zip
Anti-Anti_Dump_and_Nonintrusive_Tracers_by_deroko
Armadillo_Antidumps_By_Eggi
ArmaGeddon_v1.0_Conceptual_Overview_by_CondZero
ASProtect_2.3_SKE_inline_patching_tutorial_by_ThunderPwr
ASProtect_2.x_SKE_inline_patching_and_defeating_memory_CRC_by_ThunderPwr
ASProtect_2.x_SKE_inline_patching_tutorial_by_ThunderPwr
ASProtect_2.x_SKE_inline_patching_tutorial_by_ThunderPwr_ITA
ASProtect_analysis_of_Hardware_Breakpoint_clearing_feature_by_ThunderPwr
ASProtect_SKE_Unpacking_Approach_by_deroko
Asprotect_v2.xx_Reload_by_CondZero
ASProtect_VM_Analyze_by_deroko
Beginner_Olly_Tutorial_Part1_by_Gabri3l
Beginner_Olly_Tutorial_Part2_by_Gabri3l
Beginner_Olly_Tutorial_Part3_by_Gabri3l
Beginner_Olly_Tutorial_Part4_by_Shub-Nigurrath_v11
Beginner_Olly_Tutorial_Part5_by_Gabri3l
Beginner_Olly_Tutorial_Part6_by_Shub-Nigurrath_v11
Beginner_Olly_Tutorial_Part7_by_MaDMAn_H3rCuL3s
Beginner_Olly_Tutorial_Part8_by_Shub_Nigurrath_v141
Beginner_Olly_Tutorial_Part9_by_Gabri3l
Beginner_Olly_Tutorial_Part10_by_Shub_Nigurrath_v10
BlitzCalc_1x_Oraculum_by_Shub-Nigurrath
Boonty_InSecure_Safecast_v2.60.030_dll_injection_Tutorial_by_CondZero
Bypass_Activemark_Trymedia_v5_Debug_Check_by_cl0ud
Bypass_the_Obfuscation_scheme_of_Benladan_PatchMe_v1.1_by_Gyver75
Bypassing_TryGames_Download_Manager_by_SSlEvIN
Cracking_Acecapture_v1.8.0.0_By_Pompeyfan
Cracking_AceFTP_Pro_v3.5.0.0_By_Pompeyfan
Cracking_Acoustica_MixCraft_By_Kruger
Cracking_Acoustica_mp3towav_2.341_By_Ferrari
Cracking_Actual_Drawing_v5.5.0.0_By_Pompeyfan
Cracking_All_Video_Sound_Extractor_v1.0.4_By_Nilrem
Cracking_Animagic_Gif_Animator_v1.20_By_Pompeyfan
Cracking_Animated_Screen_v6.0.0.0_By_Pompeyfan
Cracking_Broadcaster_By_Nilrem
Cracking_CAM350R80V85_By_ThunderPwr
Cracking_CaptureEze_Pro_v8.0.0.0_By_Pompeyfan
Cracking_CaptureNPrint_6.6.6.17_By_Shub-Nigurrath
Cracking_CD_Catalogue_Expert_v8.00_By_Pompeyfan
Cracking_Computer_Watermark_1.0_By_Ferrari
Cracking_Curse_Of_Monkey_Island_v1_By_Nilrem
Cracking_CuteFTP_Pro_By_Pompeyfan
Cracking_DVDFab_v1.51_By_Madman_Hercules
Cracking_eCompXL_packer_V1_for_Symbian_Part1_by_argv
Cracking_eCompXL_packer_V1_for_Symbian_Part2_by_argv
Cracking_eCompXL_packer_V1_for_Symbian_Part3_by_argv
Cracking_Electric_Art_Screen_Saver_v1.03_by_Nilrem
Cracking_Email_Effects_By_Ferrari
Cracking_Family_KeyLogger_2.80_By_Enforcer
Cracking_FileSecurer_v3.54_By_Madman_Hercules
Cracking_FolderMatch_3.40_By_Kruger
Cracking_HexDecOctBin_Converter_v1.00_By_Nilrem
Cracking_Hide_Files_Folders_1.89_By_Ferrari
Cracking_Icontoy_v3.1_By_Nilrem
Cracking_keyloggerkiller_1.5_By_Ferrari
Cracking_KEY-LOK_USB_Dongle_by_MaDMAn_H3rCuL3s
Cracking_MHT_Quick_Saver_v2.3_By_Pompeyfan
Cracking_mIRC_v616_By_ThunderPwr
Cracking_Mpeagable_By_Nilrem_Ej12n
Cracking_n_Inline_Patching_UPX_Packed_Alcohol_120_By_Ferrari
Cracking_Noadware_By_Pompeyfan
Cracking_PasswordShieldPro_By_Ferrari
Cracking_PDF_2_Html_v1.6_By_Pompeyfan
Cracking_PDF_2_Text_v2.9_By_Pompeyfan
Cracking_PDF_2_Tiff_v1.3_By_Pompeyfan
Cracking_PDF_2_Word_v3.1_By_Pompeyfan
Cracking_Perfect_Keylogger_1.5_By_Ferrari
Cracking_Pinnacle_TRex_v1.70
Cracking_Platypus_Web_Builder_v1.6
Cracking_Purge_IE_Pro
Cracking_RegView_2.21a
Cracking_SuperCleaner_v2.67.0.0
Cracking_Ultimate_Job_Spider_v6.0.0.314
Cracking_Using_Partial_Dumps_v11_by_Shub-Nigurrath
Cracking_Video_Poker_Buddy_v3
Cracking_Watchdog
Cracking_Webkit_v1.0
Cracking_Webwhacker_v5
Cracking_Windows_Washer_v5.0
Cracking_WinLyrics_v2.43
Cracking_with_Loaders_Theory_General_Approach_and_a_Framework_v12_by_Shub-Nigurrath_ThunderPwr
Creating_a_self_registering_program_by_Radier
Creating_the_Invisible_Oraculum_by_Gabri3l
Defeating_the_Winlicense_Main_Executable_version_2050_by_quosego
dot_NET_Reverse_Engineering_Tutorial_Episode_1_by_MaDMAn_H3rCuL3s
dotNET.Reverse.Engineering.Tutorial.Episode.2.by.MaDMAn_H3rCuL3s
Dumping_and_Analyzing_ActiveMark_v6.2x_by_CondZero
DVDCloner_v2x_Online_Check_by_MaDMAn_H3rCuL3s
DVDLab_Pro_V153_by_ThunderPwr
eSellerate_License_Generation_by_anorganix
Finding_a_hardcoded_serial_and_patching_the_program_to_accept_any_serial
Fishing_Primer_with_SmartCheck_2_by_Palaryel
Fishing_Primer_with_SmartCheck_by_Palaryel
FlashFXP_Ver3.0-3.0.2-Build_1015-1045_Patch_tutorial_ThunderPwr
Funny_Int_Smashing_by_Shub-Nigurrath_11
GameShield4-5_Reversing_by_Nieylana
Generating_Keys_For_TimePassages_ENSP_by_NachoDJ
HASP_SL_A_Deeper_Dig_v11_by_potassium
HellrAiser_System_Utility_V4_reversing_by_Gyver75
How_to_write_a_simple_Packer_in_C_by_Gunther
Hyperscore_v4_with_PcGuard_Tutorial_by_Gabri3l
ICE_License_Overview_Cracking_Tomahawk_Gold_3_0_by_Anorganix
Improving_the_HideDebugger_function_v11_by_Shub-Nigurrath
Inline patching ActiveMark v63x_v66x_by_SSlEviN
Inline_Patching_AM6.3_BuyOnly_Targets_by_SSlEvIN
INLiNE_Patching_Video_Vault_By_MaDMAn_H3rCuL3s
Introduction_to_Malware_Techniques_and_Logics_part_1_by_Gunther
Ionworx_IceLicense_A_Closer_Look_Inside_v20_by_Anorganix
KeyGenning_32bit_Convert_It_vc9.64.01
Keygenning_CD_Catalog_Expert_v8.00_by_kruger
Keygenning_CDtoMP3_115
Keygenning_CDtoMP3_KeyGen_VC_NET
Keygenning_Supercleaner
Keygenning_SuperCleaner_v2.67
Loading_a_DLL_from_memory_Shub-Nigurrath_v12
Macrovision_InstallShield_2008_Professional_Edition_Short_Take_by_Condzero
Manual_unpacking_of_Gameshield_v4.5_by_SSlEvIN
Manually_Unpacking_HASP_SL_by_potassium_v1_1
MUP_FIX_PECompact_2xx-3xx_by_SSlEvIN
MUPing_ACprotector_v141_by_potassium
NewbieReversing_Part1_by_Potassium_v10
NewbieReversing_Part2_by_Potassium
Notes_on_reversing_and_cracking_Java_target_Part1_by_ThunderPwr
Notes_on_reversing_and_cracking_Java_target_Part2_by_ThunderPwr
Notes_on_reversing_and_cracking_Java_target_Part3_v1.2_by_ThunderPwr
nTitles_Protect_REViSiTED_by_MaDMAn_H3rCuL3s
Oraculum_Tutorial_with_Framework_src_V12_by_Shub-Nigurrath
Patching_Expired_Armadillo_520_w_ArmaRaider_by_Nieylana
Patching_JOCWebSpider371_by_ThunderPwr
Patching_VB_Applications_Using_Olly_by_Shub-Nigurrath_v10
Patching_without_changing_bytes_MP3Producer_2.4_by_ThunderPwr
PerfectKeylogger_fishing_and_Oraculum_by_Shub-Nigurrath
Portable_Executable_File_Format_Compendium_v11_by_Goppit
Primer_on_AndroidOS_Reversing_by_Nieylana
Primer_on_Reverse_Engineering_Symbian_3rd_Applications_v10_by_argv
Primer_on_Reversing_Jailbroken_iPhone_Native_Applications_v10_by_Shub-Nigurrath
Primer_on_Reversing_NET_Applications_v12_by_Shub-Nigurrath_etal
Primer_on_Reversing_Symbian_S60_Applications_v14_by_Shub-Nigurrath
Private_exe_Protector_Unpacking_v1.1_by_Deep0
PunchIt_V1_0_Technical_Abstract_by_CondZero
RCE_EOBSP_book_by_tHE_mUTABLE_v1.0
Registry_Mechanic_v51_by_CondZero
Removing_Sentinel_SuperPro_by_Shub-Nigurrath_v10
Reversing_Keygenning_Two_MD5_Schemas_by_2kAD_Nieylana
Reversing_of_a_Protection_Scheme_based_on_drivers_Sandboxie_v11_by_Shub-Nigurrath
Reversing_Thinstall_Virtualization_Suite_by_Blurcode
Ring0_Crackme_by_deroko
Ripping_VB_Code_by_Deroko
Roya-V251_tutorial_by_ThunderPwr_Zest
Serial_Fishing_and_Oraculum_for_Weblink_by_Gabri3l_and_Shub-Nigurrath
Serial_Fishing_Winzip_90
Shockwave_Flash_&_Director_Overlays_The_Armadillo_Aspect_by_Ghandi
Solving_problem_Eudora_ems_mails_by_Shub-Nigurrath
Some_Insights_into_SecuRom_7.30.0014_by_AnonymouS
Special_Issue_for_SecuRom_7.30.0014_Complete_Owning_by_ARTeam
Special_Issue_for_SecuRom_7.30.0014_Take2_VM_Analysis_by_ARTeam
Spyware_Doctor_3.2.1_Build._359_MUP_and_cracking_tutorial_by_ThunderPwr_and_MaDMAn_H3rCuL3s
Spyware_Doctor_3.2.1_Build_359-In-line_patching_by_ThunderPwr
Step-by-Step_UnUPXing_tut_By_Shub-Nigurrath
Swat_It_Pro_v21_ASPack_in_line_patching_by_ThunderPwr
Swimming_Into_Hostile_Code_by_EvilCry
Symbian_Symphony_for_4_Crackmes_and_a_Commercial_Program_v10_by_Shub-Nigurrath
Synopsis_on_Asprotect_SKE_Patching_by_MaDMAn_H3rCuL3s
TheMida_defeating_ring0_by_deroko
Ulead_DVD_MovieFactory_V4_by_ThunderPwr
Underhood_on_Armadillo_License_Removal_by_Ghandi
Universal_CAD_Converter_V30_Crack_tutorial_by_ThunderPwr
Unpack_PE_Lock_Phantasm_1x_by_Nieylana
Unpacking_4_Simple_Packers_with_IDA_Videotut_by_TiGa
Unpacking_ActiveMark_v5.x_Advanced_Part2_by_Condzero
Unpacking_ActiveMark_v5.x_Basic_Part1_by_Condzero
Unpacking_And_Cracking_Armadillo_v4.x_DLL_by_MaDMAn_H3rCuL3s
Unpacking_And_Cracking_MoreMotion_Advanced_Suite_v3.2_by_MaDMAn_H3rCuL3s
Unpacking_and_Cracking_Protection_Plus_v4.x_DLL_by_MaDMAn_H3rCuL3s
Unpacking_And_Cracking_TMPGEnc_DVD_Author_v1.6.34.89_by_MaDMAn_H3rCul3s
Unpacking_And_Dumping_ExeCryptor_and_Coding_Loader_by_deroko
Unpacking_Armadillo_5.xx_Protected_DLL's_(Using_Code_Splicing_protection)_by_Ghandi_v10 (1)
Unpacking_Armadillo_5.xx_Protected_DLL's_(Using_Code_Splicing_protection)_by_Ghandi_v10
Unpacking_Armadillo_v3.x_With_ANTI-DUMP_by_MaDMAn_H3rCul3s
Unpacking_Armadillo_v4.x_With_ANTI-BP_by_MaDMAn_H3rCul3s
Unpacking_Armadillo_v4.x_With_Code_Splicing_by_MaDMAn_H3rCul3s
Unpacking_Armadillo_v4.x_With_PE_Header_Trick_by_MaDMAn_H3rCuL3s
Unpacking_Armadilloed_Dll_by_Deroko
Unpacking_ASProtect_1.21-1.23_PDF_To_Html_By_Ferrari
Unpacking_ASProtect_1.23_RC4_by_Radier
Unpacking_ASProtect_1.23-1.3.08.24_RC4_Adding_Section_By_Ferrari
Unpacking_ASProtect_12c_Removing_Time_Limit_Protection_MySQL_Manager_by_Ferrari_Shub-Nigurrath
Unpacking_ASProtect_v1.23_RC4_Blaze_DVD_Pro_v3.0_By_MaDMAn_H3rCuL3s
Unpacking_ASProtect_v1.31_unpackme_by_ThunderPwr
Unpacking_EXESHiELD_v3.x_NON-SILENT_by_MaDMAn_H3rCul3s
Unpacking_EXESHiELD_v3.x_SILENT_by_MaDMAn_H3rCul3s
Unpacking_ICopyDVDs2_Part_1_By_MaDMAn_H3rCuL3s
Unpacking_ICopyDVDs2_Part_2_By_MaDMAn_H3rCuL3s
Unpacking_Inline_Patching_UPX_Packed_Windows_Washer_v5.0_By_Nilrem
Unpacking_MoleBox_Pro_v2.5_by_MaDMAn_H3rCuL3s
Unpacking_n_Cracking_Petite_1.2_Packed_Apis32_v2.5_By_Ferrari
Unpacking_n_Cracking_Pop_Up_Washer_v2.2.0_build_1_By_Nilrem
Unpacking_n_Inline_Patching_ASPack_2.11_System_Mechanic_By_Ferrari
Unpacking_Neolite_v1.0-v1.01_By_Nilrem
Unpacking_Neolite_v2.0_By_Nilrem
Unpacking_nTitles_Verify_Protected_Programs_by_MaDMAn_H3rCuL3s
Unpacking_PECompact_1.68-1.84_OCX_Control_By_Ferrari
Unpacking_PECompact_v2.79_by_Gabri3l
Unpacking_Protection_Plus_v4.x_Anti-Dump_by_MaDMAn_H3rCul3s
Unpacking_Safecast_by_anonymous
Unpacking_Thinstall_by_MaDMAn_H3rCul3s
Unpacking_Upx_Protected_Windows_Washer_v5.00_By_Nilrem
Unpacking_VBOX_Derive6_By_ThunderPwr
Unpacking_With_Tracers_I_by_NCR
Unpacking_With_Tracers_II_by_NCR
Unpacking_Yodas_cryptor_1_x_Modified_By_Teerayoot
Unwrapping_WildTangent_Games_by_Nieylana_SSlEvIN
Using_Memory_Breakpoints_by_Shub-Nigurrath_v10
Ventrilo_3.0.1_Mod_by_Nieylana
Visual_Protect_License_Generation_by_Anorganix
Weakness_of_the_Windows_API_Part1_by_Gabri3l
Win32_Assembler_Coding_for_Crackers_by_Goppit_v11
WinCE_Beginner_Tutorial_1_by_Shub-Nigurrath
Writing_a_Loader_4_Softwrap_6.1.1_by_Gabri3l_v10
Writing_Generic_Patchers_Using_Dynamic_Code_Cave_Injection_by_Potassium
Writing_Loader_2_patch_apps_protected_with_AsProtect_1.2x_and_earlier_v10_by_Shub-Nigurrath_ThunderPwr
Writing_Loader_2_patch_apps_protected_with_AsProtect_2.0__v10_by_Shub-Nigurrath_ThunderPwr
Writing_Loaders_for_Dll_theory_and_techniques_v10_by_Shub-Nigurrath
Writing_loaders_for_unknown_packers_by_Shub-Nigurrath_v10
XiliCrypt_Reversing_Xilisoft_Encryption_Routine_by_Nieylana
1Click_DVD_to_Divx_Avi-V121_by_ThunderPwr
010_Editor_V2.0_Registration_Cracking_Tutorial_by_ThunderPwr
A_Quick_Overlook_Into_X-Prot_v2_by_Anonymous
A_Security_Aspect_Of_USB_Flash_Drives_v1_1_by_potassium
Absolute_Uninstaller_v1.3_by_Gabri3l
ACProtect_Debug_Register_Protection_by_LunarDust
AcProtect_NagRemover_Tutorial_By_Shub-Nigurrath
ActiveMark_Overlay_Tutorial_by_Lunar_Dust
ActiveMark_v5.42.1218_F.E.A.R._LOADER_by_CondZero
ActiveMARK_v5.x_Process_Dumper_by_CondZero
// Download URLs //
| | | |
| --- | --- | --- |
| Count | Download | Size |
| 244 | | 359 MB |
(No Homepage)