| | |
| --- | --- |
| | This article is the original content of AppNee. All rights reserved. To repost or reproduce, please make a footnote with our article link! |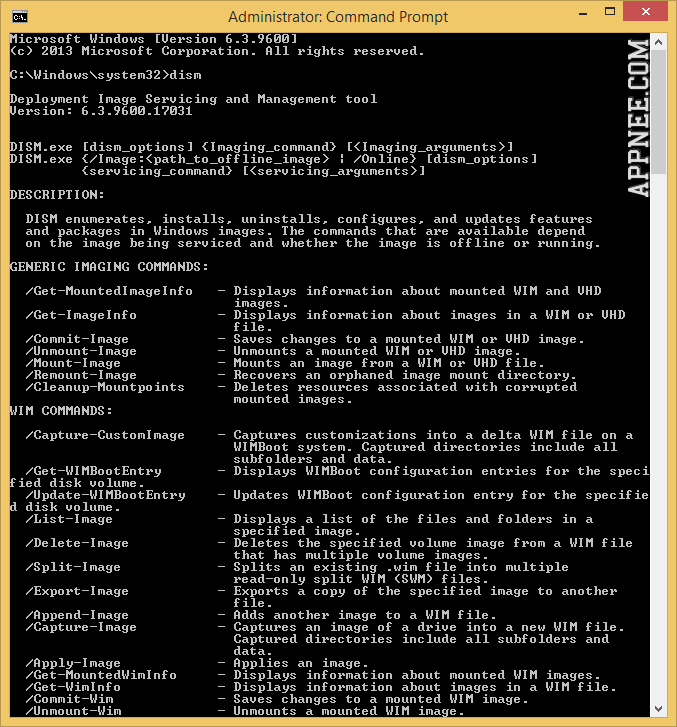 DISM (short for Deployment Imaging and Management), it is just in the system folder (DISM.exe), you can run the 'CMD' (as administrator) and type 'dism' to call it out… used to install, uninstall, configuration and update the features and program packages of the offline Windows (R) or Windows PE image.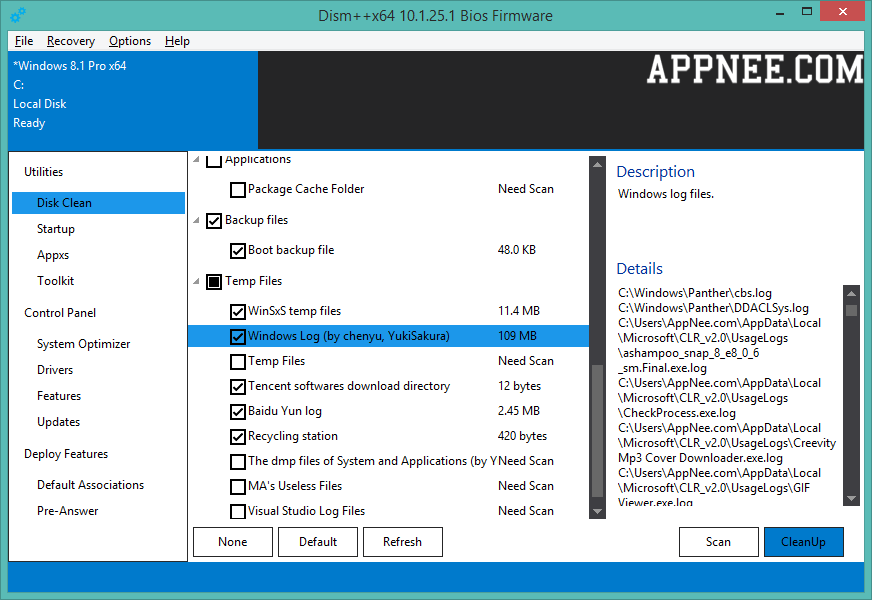 But the command prompt line tool always makes some Windows newbies feel difficult to understand, so Dism++ (AKA: Dism Plus Plus) came out – currently most popular GUI for DISM. To some extent, it can be regarded as an upgrade version of Dism manager, do you remember the Windows Update Clean Tool for similar tools? As a Windows OS simplifying utility, Dism++ has many new practical functions such as system repair, installed update and driver management, driver export, etc. Besides, it also supports WIMBoot (Windows Image File Boot) system detection – all operations are just performed conveniently and easily within the GUI.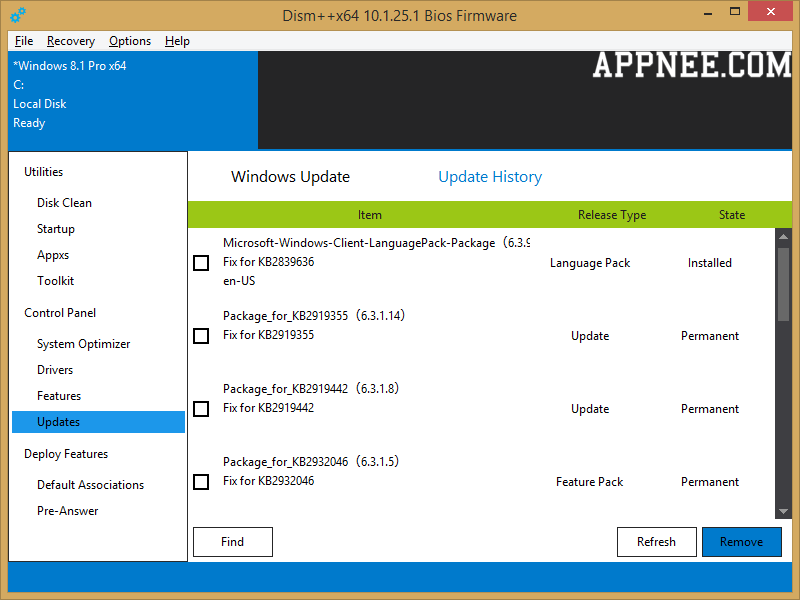 Different from other Dism GUI tools, Dism++ was not written using the well-known Dism API. That means it does not depend on the Windows built-in Dism.exe, but implements using an undocumented Windows Deployment Imaging Service Management Type Library from Microsoft. Thanks to this, Dism++ not only can operate Windows system in underlayer to provide more flexible customizations, but also has the ability of bringing the deliberately hidden features to light, such as ESD capture, conversions between ESD and WIM (Windows Imaging Format), etc.
Besides, Dism++ has brand new structure, smaller file size and faster response speed, and supports all Windows OS after 7.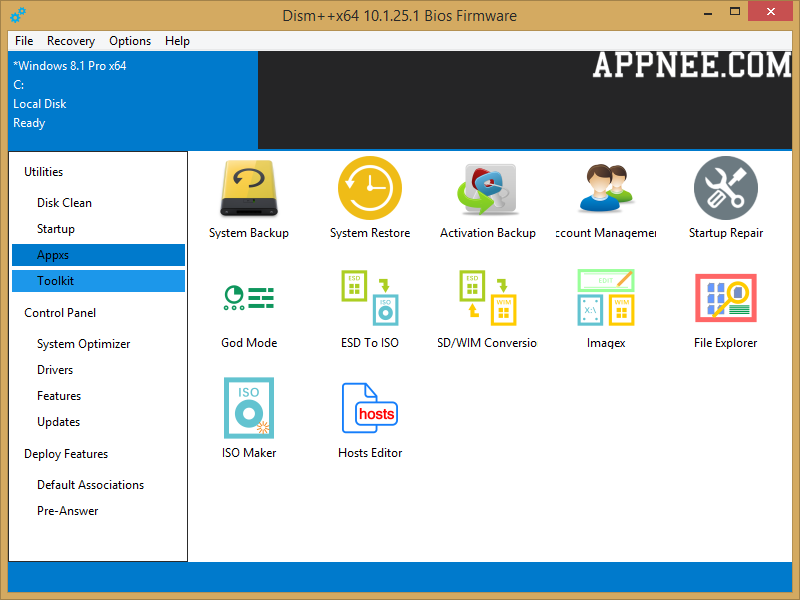 // Key Features //
Outdated driver clean up (based on Microsoft's DriverPackageManagement API)
Outdated update clean up
Support converting WIM – ESD/SWM, ESD – ISO, ESD Decryption
Perfect WIM, WIMBoot support
WIM fast mount
Complete ESD support (including editing)
Thermal/Warm Windows backup/recovery (system downgrading)
Direct backup/restore without having to enter PE first (can be regarded as a better alternative tool of Ghost)
Complete update firmware support
System repair support
BCD boot repair
… and more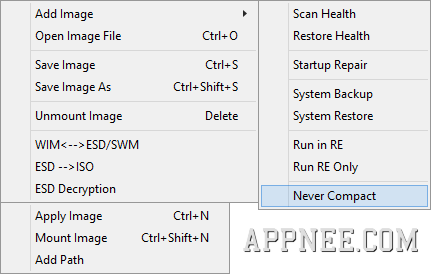 // Supported OS //
Windows Vista
Windows 7
Windows Server 2008 R2
Windows 8
Windows RT
Windows Server 2012
Windows 8.1
Windows RT 8.1
Windows Server 2012 R2
Windows 10
// Supported Architecture //
Windows x86
Windows x86-64
Windows x64
Windows IA64
Windows ARM (32 bit)
// Prompts //
The cleanup and many other processes are very slow, so you need to pay some more patience.
If it get stuck or crashed (especially when comes to the Windows Update Cleanup), just try to run it as administrator or you have to skip some items' cleanup.
The 'wsusscn2.cab' file under 'Config' folder is the Windows Updates' database file, used to scan Windows updates. It can be deleted if you do not need it.
// Download URLs //
| | | |
| --- | --- | --- |
| Version | Download | Size |
| v10.1.1000 | | 21.3 MB |
| v10.1.27.1 | | 21.0 MB |
| v10.1.25.1 | | 26.8 MB |
| v10.1.23.1 | | 26.6 MB |
| v10.1.21.2 | | 26.7 MB |
| v10.1.17.4 | | 24.3 MB |
| v10.1.11.1 | | 23.7 MB |
| v10.1.9.1 | | 23.1 MB |
| v10.1.7.1 | | 21.5 MB |
| v10.1.6.5 | | 21.5 MB |
| v10.1.6.3 | | 21.5 MB |
| v10.1.5.9 | | 21.2 MB |
| v10.1.5.7 | | 21.2 MB |
| v10.1.5.5 | | 17.8 MB |
| v10.1.5.1 | | 22.3 MB |
| v10.1.4.9 | | 24.1 MB |
| v10.1.4.8 | | 23.9 MB |
| v10.1.4.7 | | 21.9 MB |
| v10.1.4.5 | | 22.2 MB |
| v10.1.4.1 | | 3.05 MB |
| v10.1.3.7 | | 1.76 MB |
| v10.0.5.12 | | 2.74 MB |
(Homepage)