This work is licensed under a
Creative Commons Attribution-NonCommercial-ShareAlike 4.0 International License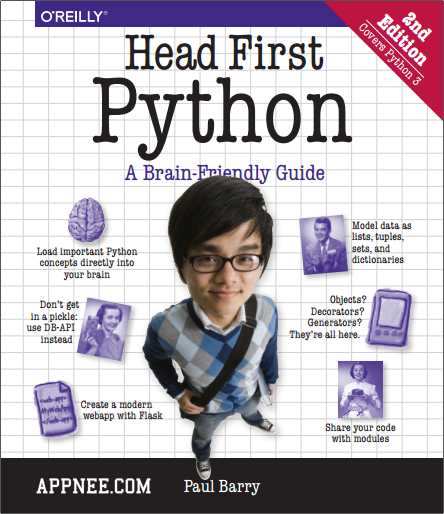 Have you ever thought to start to learn Python well just through one book? Head First Python can help you learn Python in a unique way that beyond other grammar manuals.
You will be able to quickly grasp the basic knowledge of Python programming language, and then extend to data persistence, exception handling, web development, SQLite, data processing and Google App Engine. In addition to writing scripts that can automatically perform tasks and programs based on GUI, you will even learn how to write mobile applications for Android and the development skills of complex games.
All these should thank to the strong abilities that Python gives you. Head First Python fuses a comprehensive learning experience which will help you become a true Python programmer.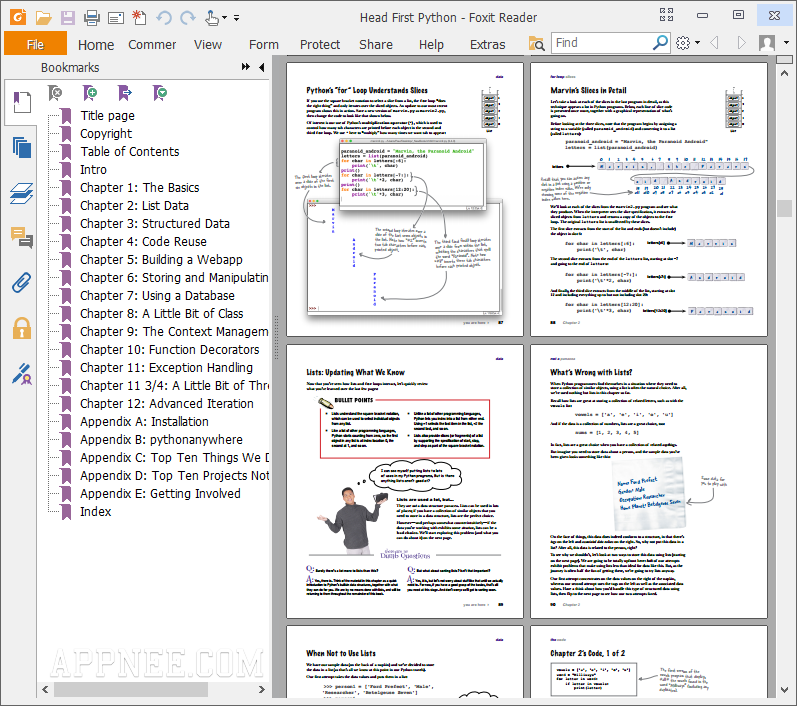 // Table Of Contents //
Chapter 1 The Basics: Getting Started Quickly
Chapter 2 List Data: Working With Ordered Data
Chapter 3 Structured Data: Working With Structured Data
Chapter 4 Code Reuse: Functions & Modules
Chapter 5 Building a Webapp: Getting Real
Chapter 6 Storing & Manipulating Data: Where To Put Your Data
Chapter 7 Using a Database: Putting Python's DB-API To Use
Chapter 8 A Little Bit of Class: Abstracting Behavior and State
Chapter 9 The Context Management Protocol: Hooking Into Python's With Statement
Chapter 10 Function Decorators: Wrapping Functions
Chapter 11 Exception Handling: What to Do When Things Go Wrong
Chapter 12 A Little Bit of Threading: Dealing With Waiting
Chapter 13 Advanced Iteration: Looping Like Crazy
Appendix Installation: Installing Python
Appendix Pythonanywhere: Deploying Your Webapp
Appendix Top Ten Things We Didn't Cover: There's Always More To Learn
Appendix Top Ten Projects Not Covered: Even More Tools, Libraries, And Modules
Appendix Getting Involved: The Python Community
Appendix Back Cover Content: TOC images
// Related Links //
// Download URLs //
(Homepage)
// Related Posts //
Robots, Androids and Animatrons, Second Edition HD PDF
Head First JavaScript Programming 2007, 2014 HD PDF
Super Mario 3: Mario Forever Lost Map Portable
American Sign Language Hand Symbols HD PDF
7-Data Card Recovery – Good at media data
More Programming Pearls: Confessions of a Coder Scanned
[NDS] N+ – Ninja skills challenge
[PSX] Castlevania: Symphony of the Night ROM +
Stephen King Different Seasons HD PDF, EPUB, MOBI
GUI Bloopers 2.0, 2nd Edition HD PDF download
If any download link breaks down, remember to tell us to update for you (find the email address @ About page)
Due to daily work, we can't reply you in time, please understand. But we will reply every email, except the mistakes in sending or receiving made by email system.
Any resource downloaded from AppNee, we still suggest you use antivirus software to do a full scan (especially the more authoritative and comprehensive online scanning websites VirusTotal or VirSCAN), and then judge by yourselves to decide whether to use.
If you ran into any error message when using some softeware, you can post them to our support forum (en.AppNee.com), where we will do our best to find the most effective solution for you.