This work is licensed under a
Creative Commons Attribution-NonCommercial-ShareAlike 4.0 International License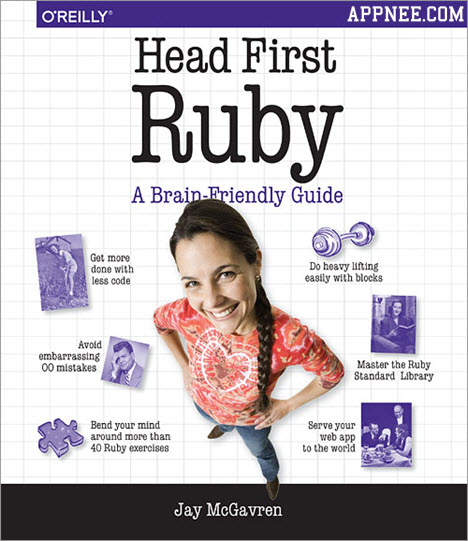 Ruby is a simple and fast object-oriented programming scripting language that is obviously younger than other similar programming languages (such like Perl or Python). It was written by Yukihiro Matsumoto from Japan (started in 1993 and finished in 1995). The inspiration and characteristics of Ruby are mainly from Perl, Squeak/Smalltalk, Eiffel, Ada and Lisp programming languages.
According to the consistent characteristics of Head First series, Head First Ruby introduces the complete process of introduction to Ruby language in a very simple and vivid way for beginners. Furthermore, it also involves advanced Ruby features such as blocks, objects, methods, classes, and regular expressions; as well as some deep topics such as exception handling, modules, mixins, and metaprogramming.
AppNee provides the Head First Ruby Full HD version with 890+ pages, not the Early Release RAW & UNEDITED version with only 286 pages.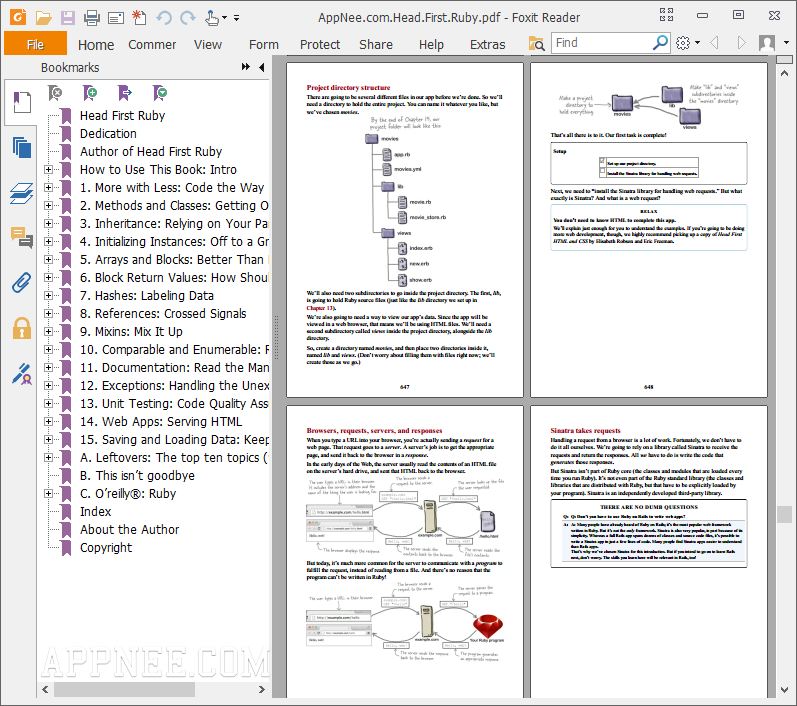 // Table Of Contents //
Chapter 1 More with Less: Code the Way You Want
Chapter 2 Methods and Classes: Getting Organized
Chapter 3 Inheritance: Relying on Your Parents
Chapter 4 Initializing Instances: Off to a Great Start
Chapter 5 Arrays and Blocks: Better Than Loops
Chapter 6 Block Return Values: How Should I Handle This?
Chapter 7 Hashes: Labeling Data
Chapter 8 References: Crossed Signals
Chapter 9 Mixins: Mix It Up
Chapter 10 Comparable and Enumerable: Ready-Made Mixes
Chapter 11 Documentation: Read the Manual
Chapter 12 Exceptions: Handling the Unexpected
Chapter 13 Unit Testing: Code Quality Assurance
Chapter 14 Web Apps: Serving HTML
Chapter 15 Saving and Loading Data: Keep It Around
Appendix Leftovers: The top ten topics (we didn't cover)
// Book Example Codes //
// Download URLs //

 (44.3 MB | Homepage)
// Related Posts //
The Definitive Guide to CentOS HD PDF
Android Wireless Application Development, Volume I & II
Koumajou Densetsu I, II for PC Portable Full
[PS2] Castlevania: Lament of Innocence ROM + Emulator
The IDA Pro Book, 1st & 2nd Edition
JavaScript and JSON Essentials HD PDF
Observation:–Every Man His Own University HD PDF, MOBI,
[v2.0] N – Super cool Ninja action game
Ugo Tool – Create dancing stick figures
[v4.21] SoftEther VPN – World's only best, long-term
If any download link breaks down, remember to tell us to update for you (find the email address @ About page)
Due to daily work, we can't reply you in time, please understand. But we will reply every email, except the mistakes in sending or receiving made by email system.
Any resource downloaded from AppNee, we still suggest you use antivirus software to do a full scan (especially the more authoritative and comprehensive online scanning websites VirusTotal or VirSCAN), and then judge by yourselves to decide whether to use.
If you ran into any error message when using some softeware, you can post them to our support forum (en.AppNee.com), where we will do our best to find the most effective solution for you.