| | |
| --- | --- |
| | This article is the original content of AppNee. All rights reserved. To repost or reproduce, please make a footnote with our article link! |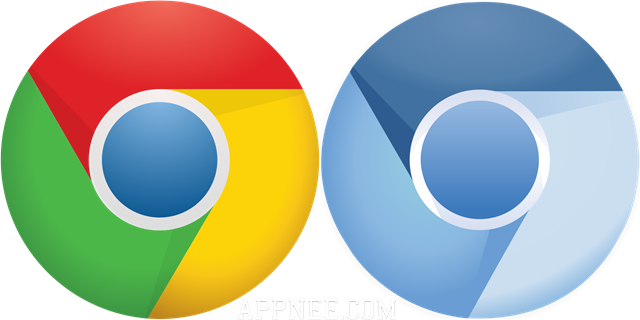 The research supported by real statistics indicates that, Chrome, its source Chromium and countless homologous varieties browsers have overwhelmingly occupied the market of web browsers. Although this is true and not always a good thing.

The possibility of Mozilla Firefox turns the tables depends on whether it can absorb advantages from its homologous varieties (such as Waterfox) and magnify them. As for IE, as long as Windows exists, it won't go away – which can be attributed to the powerful vitality of a variety of popular applications based on IE. But it still does not have a chance to turn at all.
For web browser that we have to use almost every day, Google Chrome and Chromium's biggest drawback is that they store their various configurations/profiles and other important data for users in the system partition (C:\ volume). That means once we move its installation directory or reinstall Windows, then all the data and configurations will be lost (trouble is, their manual backup process is very painful and grudging). Even if we can use some specially designed tools (like MozBackup) to automate this operation, it's also hard to avoid that we always forget such kind of things.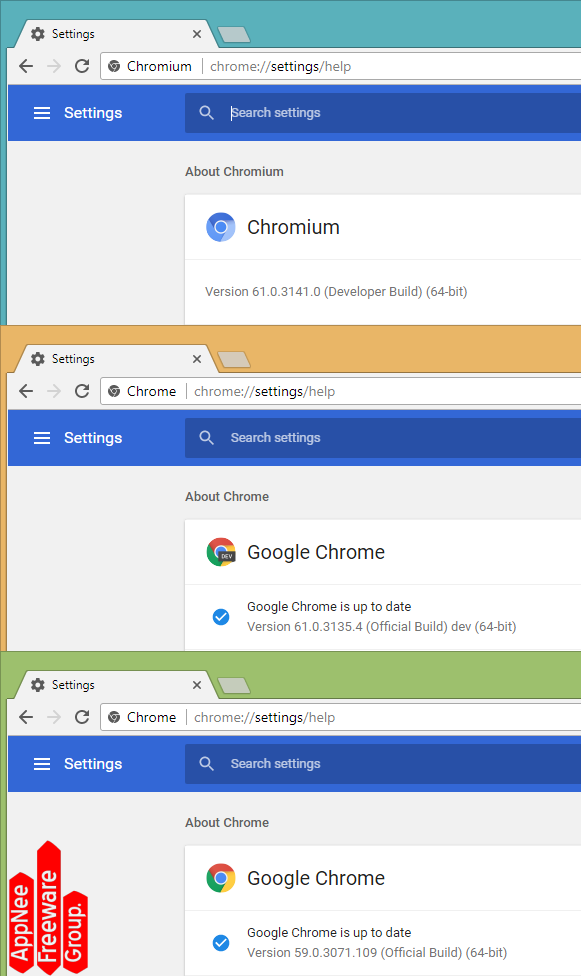 The biggest characteristic of portable edition lies in this, it just save all data generated by Chrome or Chromium inside the browser's extraction directory. That's to say, you can take them along with all the related data and configuration profiles anywhere without any concern for the possibility of data loss.
In this post, AppNee will keep updating only the latest multilingual portable versions with important updates (providing Beta, Dev & Stable 3 kinds of official builds for choice) of Google Chrome and Chromium for Windows (32-bit & 64-bit in one package). And make sure all files are extracted from the official offline setup/standalone installer packages, untouched.
// Related Links //
// Download URLs //
Version
32-bit & 64-bit
Size
Chromium
v63.0.3207
32-bit | 64-bit
68.5 MB | 81.4 MB
v62.0.3171
32-bit | 64-bit
74.0 MB | 76.2 MB
v61.0.3141
32-bit | 64-bit
67.2 MB | 79.1 MB
v60.0.3079
32-bit | 64-bit
78.8 MB | 66.9 MB
v59.0.3040
32-bit | 64-bit
63.8 MB | 74.9 MB
v58.0.2989
32-bit | 64-bit
62.8 MB | 72.8 MB
v57.0.2935
32-bit | 64-bit
42.1 MB | 47.5 MB
v55.0.2870
32-bit | 64-bit
40.8 MB | 45.8 MB
v54.0.2798
32-bit | 64-bit
42.3 MB | 49.7 MB
v53.0.2751
65.3 MB
v52.0.2710
64.5 MB
v51.0.2675
63.9 MB
v50.0.2633
70.3 MB
Chrome Dev
v62.0.3198
32-bit | 64-bit
49.4 MB | 54.0 MB
v61.0.3135
32-bit | 64-bit
48.1 MB | 52.9 MB
v59.0.3071
32-bit | 64-bit
46.7 MB | 51.0 MB
v58.0.3026
46.7 MB
v57.0.2986
47.0 MB
v56.0.2924
47.2 MB
v55.0.2868
32-bit | 64-bit
45.7 MB | 50.3 MB
v53.0.2785
32-bit | 64-bit
51.4 MB | 59.0 MB
v52.0.2743
48.7 MB
v50.0.2661
56.2 MB
Chrome Stable
v61.0.3163
32-bit | 64-bit
47.6 MB | 52.1 MB
v60.0.3112
32-bit | 64-bit
48.3 MB | 53.0 MB
v59.0.3071
32-bit | 64-bit
46.7 MB | 51.0 MB
v58.0.3029
32-bit | 64-bit
45.9 MB | 50.0 MB
v57.0.2987
32-bit | 64-bit
45.8 MB | 50.0 MB
v55.0.2883
32-bit | 64-bit
47.0 MB | 51.5 MB
v54.0.2840
32-bit | 64-bit
46.4 MB | 50.9 MB
v53.0.2785
32-bit | 64-bit
51.5 MB | 59.0 MB
v51.0.2704
32-bit | 64-bit
48.2 MB | 56.0 MB
Chrome for XP/Vista (Final)

v49.0.2623

 (32-bit)
47.4 MB
v48.0.2564
 (32-bit)
47.3 MB
*** AppNee only provides the portable editions for Chrome & Chromium's important version of updates.
*** In the end, we decided to remove the Chrome's Beta edition, because it is sandwiched between its Dev and Stable these two editions, as the transitional one that has almost no meaning of existence at AppNee.