| | |
| --- | --- |
| Ⅰ | This article along with all titles and tags are the original content of AppNee. All rights reserved. To repost or reproduce, you must add an explicit footnote along with the URL to this article! |
| Ⅱ | Any manual or automated whole-website collecting/crawling behaviors are strictly prohibited. |
| Ⅲ | Any resources shared on AppNee are limited to personal study and research only, any form of commercial behaviors are strictly prohibited. Otherwise, you may receive a variety of copyright complaints and have to deal with them by yourself. |
| Ⅳ | Before using (especially downloading) any resources shared by AppNee, please first go to read our F.A.Q. page more or less. Otherwise, please bear all the consequences by yourself. |
| | This work is licensed under a Creative Commons Attribution-NonCommercial-ShareAlike 4.0 International License. |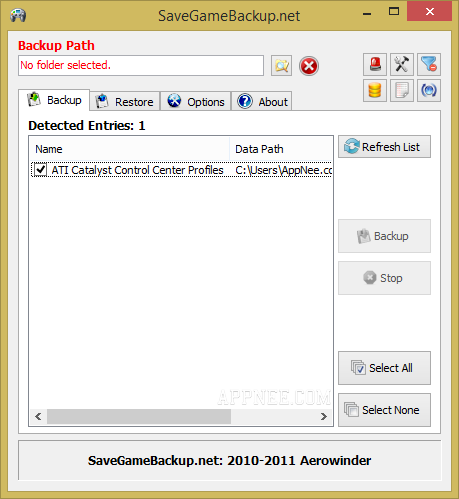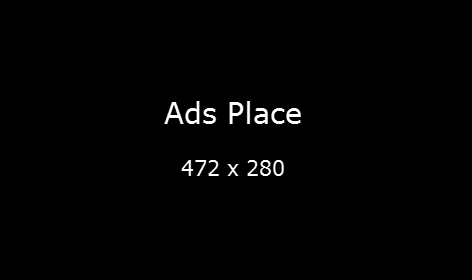 There are many reasons (such as reinstall Windows, Windows or hard drives break down, accidentally delete, forget to backup, or uninstall the games, etc.) can cause the archives/saves/profiles/sessions of games to be damaged or lost. In this case, you have to play them again, from the very beginning! Even a game comes with extremely high playability, players will strongly feel very boring. In particular, the storage path of gamesave files used by every game is not always the same one (but almost always under the C drive). This further makes players don't want to periodically or don't know how to backup these files manually.

SaveGameBackup (SGB for short) is a super powerful and practical tiny freeware (discontinued) specially developed for PC gamers by Aerowinder, which was born to solve this problem. As a universal gamesave solution that allows players to easily and quickly complete all game save files backup/restore operations with one click, it supports automatic search to the game saves of more than 1400 popular PC games, as well as the manual backup & restore to any games' archive files. All the data is stored in a database. That means you can update, add more games that it has not supported to the database, and build up a list for ignored games.
Compared with the similar tool GameSave Manager, SaveGameBackup is simpler and more easy-to-use. Although its functions are relatively less, yet still sufficient to help us automatically find and backup the save data files of all PC games in our computer with ease.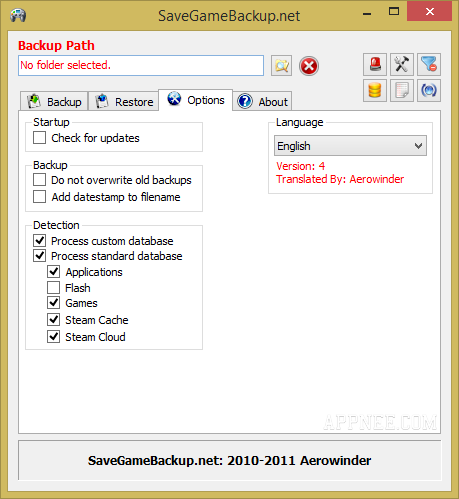 // Key Features //
Easy to use (sleek UI and easy to understand control)
Completely database driven (using SQLite to manage all assets information)
Ability to update database from within the program
Custom database entries
automatically search the save files for currently supported 1500 PC games
Quickly backup/restore all your gamesaves with one-key
Multiple languages support
Ignore List support
Official portable (all application settings are stored in the application's folder)
Support for saving and restoring over the network (UNC) and saving to cloud services
Supports Windows XP SP3 and higher
No ads, no nags
100% freeware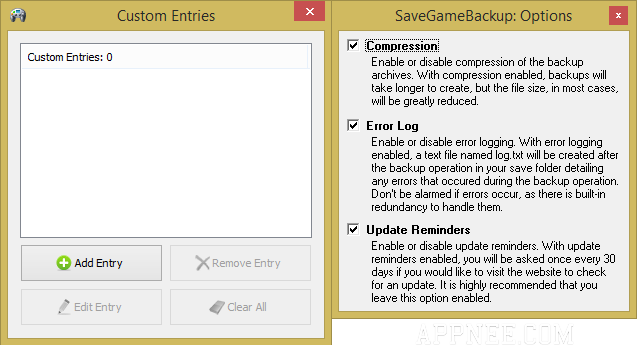 // Built-in Supported Games List //
1… 2… 3… KICK IT!
10 Days to Save the World
10 Days Under the Sea
18 Wheels of Steel Across America
18 Wheels of Steel Extreme Trucker 2
5 Realms of Cards
A Game of Thrones: Genesis
A New Beginning
AaaaaAAaaaAAAaaAAAAaAAAAA!!!: A Reckless Disregard for Gravity
Aces of the Galaxy
Achron
Achtung Panzer: Operation Star
Act of War: Direct Action
Act of War: High Treason
Adam's Venture 2
Advent Rising
Adventures of Tintin, The
Affair Bureau
Afterfall: InSanity
Agatha Christie: Death on the Nile
Age of Conan
Age of Empires 2
Age of Empires 3
Age of Empires Online
Age of Empires
Age of Mythology: The Titans Expansion
Age of Mythology
Age Of Oracles: Tara`s Journey
Age of Pirates 2: City of Abandoned Ships
Age of Wonders
Agricultural Simulator 2011
AI War: Fleet Command
Air Conflicts: Secret Wars
Airline Tycoon 2
Airport Control Simulator
Aladin and the Wonderful Lamp: The 1001 Nights
Alan Wake
Alexander the Great
Algodoo
Alice: Madness Returns
Alice
Alien Breed 2: Assault
Alien Breed 3: Descent
Alien Breed: Impact
Alien Hallway
Alien Shooter 2: Reloaded
Alien Shooter: Revisited
Alien Shooter: Vengeance
Alien Swarm
Aliens vs. Predator 2: Primal Hunt
Aliens vs. Predator 2
Aliens vs. Predator Classic 2000
Aliens vs. Predator
Alone in the Dark: The New Nightmare
Alone in the Dark
Alpha Centauri
Alpha Prime
Alpha Protocol
Alternativa
Altitude
America's Army 3
Amnesia: The Dark Descent
Anachronox
And Yet It Moves
Angry Birds Rio
Angry Birds Seasons
Angry Birds Space
Angry Birds
Ankh 2: Heart of Osiris
Ankh: Battle of the Gods
Anno 1404: Dawn of Discovery
Anno 1404
Anno 2070
Anomaly: Warzone Earth
Another World
Apache: Air Assault
APB Reloaded
Aquanox 2: Revelation
Aquanox
Aquaria
ArcaniA – Fall of Setarrif
ArcaniA: Gothic 4
Arcanum: Of Steamworks and Magick Obscura
Archon Classics
ARES: Extinction Agenda
ArmA 2: REINFORCEMENTS
ArmA 2
ArmA
Armada 2526
Armies of Exigo
Arx Fatalis
Assassin's Creed Brotherhood
Assassin's Creed
Asterix at the Olympic Games
ATI Catalyst Control Center Profiles
Atom Zombie Smasher
Atomic City Adventures: The Case of the Black Dragon
Audiosurf
Autumn's Treasures: The Jade Coin
Avatar
Avenue Flo
Aveyond I: Rhen's Quest
Aveyond II: Ean's Quest
Awakening: The Dreamless Castle
Axis & Allies
Azada: Ancient Magic
Azada
Aztaka
Back to the Future E1: Its About Time
Back to the Future E2: Get Tannen
Back to the Future E3: Citizen Brown
Back to the Future E4: Double Visions
Back to the Future E5: OUTATIME
Backyard Sports Sandlot Sluggers
Baconing, The
Bad Rats: The Rats Revenge
Baldur's Gate 2: Shadows of Amn
Ball, The
Ballance
Balloon Express
Bastion
Batman: Arkham Asylum
Batman: Arkham City
Batman: Los Angeles
Battle Engine Aquila
Battle For Middle-Earth 2, The
Battle for Wesnoth
Battlefield 1942
Battlefield 2
Battlefield 2142
Battlefield 3
Battlefield Bad Company 2
Battlefield Heroes
Battlefield Play4Free
Battlefield Vietnam
BattleForge
Battlestar Galactica
Battlestations: Midway
Battlestations: Pacific
Battlestrike: Shadow of Stalingrad
BBC Battlefield Academy
BC Kings
Beast Within, The
Beat Hazard
BEEP
Beijing 2008
Bejeweled 2
Bejeweled 3
Bejeweled Twist
Bejeweled
Ben There, Dan That!
Beneath a Steel Sky
Beowulf
Betrayal at Krondor
Betrayal in Antara
Beyond Good and Evil
Binding of Isaac, The
Bionic Commando: Rearmed
Bionic Commando
BIONICLE Heroes
BioShock 2
BioShock
Birth of America
Bit.Trip Beat
Bit.Trip Runner
Black & White 2
Black & White
Black Mirror 2
Black Mirror 3
Blacklight: Tango Down
Blacksite: Area 51
Blackwell Convergence
Blackwell Deception
Blackwell Legacy, The
Blackwell Unbound
Blade Kitten
BlazBlue: Calamity Trigger
Blocks That Matter
Blood 2: The Chosen
Blood Bowl: Dark Elves Edition
Blood Bowl: Legendary Edition
Blood Stone
Blood Ties
Blood
BloodRayne 2
BloodRayne
Bloody Good Time
Blur
Bob Came In Pieces
Bone: Out From Boneville
Bone: The Great Cow Race
BoneTown
Boogie Bunnies
Book of Unwritten Tales, The
Bookworm Adventures Deluxe
Boonka
Booster Troopers
Borderlands
Born Into Darkness
Boulder Dash XL
Braid
Breath of Death 7
Breed
Brink
Broken Sword 2: The Smoking Mirror
Broken Sword 3: The Sleeping Dragon
Broken Sword: Shadow of the Templars: The Director's Cut
Broken Sword: The Angel of Death
Brothers In Arms: Earned in Blood
Brothers In Arms: Hell's Highway
Brothers In Arms: Road to Hill 30
Buccaneer: The Pursuit of Infamy
Build-a-Lot 2
Build-a-Lot 3
Build-a-Lot 4
Build-a-Lot
Bullet Candy
BulletStorm
Bully: Scholarship Edition
Burn Zombie Burn
Burnout Paradise
Bus Driver
Caesar 3
Cake Mania 3
Call of Cthulhu: Dark Corners of the Earth
Call of Duty 2
Call of Duty 4: Modern Warfare
Call of Duty: Black Ops
Call of Duty: Modern Warfare 2
Call of Duty: Modern Warfare 3
Call of Duty: United Offensive
Call of Duty: World at War
Call of Duty
Call of Juarez: Bound in Blood
Call of Juarez
Call To Power 2
Campfire Legends: The Hookman
Cannon Fodder
Cargo! The Quest For Gravity
Cars 2
Cars: Toon Mater's Tall Tales
Cars
Cassandra's Journey 2: The Fifth Sun of Nostradamus
Cassandra's Journey: The Legacy of Nostradamus
Caster
Catwoman
Cave Story+
Celebrity Deathmatch
Chaser
Checkers-7
Chess-7
Chicken Invaders 4: Ultimate Omelette
Chime
Chosen: Well of Souls, The
Chrome: Specforce
Chrome
Chronicles of Riddick: Assault on Dark Athena, The
Chronicles of Riddick: Escape From Butcher Bay, The
Chronostorm
Cities In Motion
Cities XL 2011
Cities XL 2012
Cities XL
City Sights: Hello, Seattle!
Civilization 3: Conquests
Civilization 3: Play The World
Civilization 3
Civilization 4: Beyond the Sword
Civilization 4: Colonization
Civilization 4: Complete
Civilization 4: Warlords
Civilization 4
Civilization 5
Club Control
Club, The
Clumsys 2: Butterfly Effect, The
Clumsys, The
Clutch
Coconut Queen
Codename Panzers: Cold War
Cogs
Combat Mission: Afghanistan
Combat Mission: Battle for Normandy
Combat Zone: Special Forces
Command & Conquer 3: Kane's Wrath
Command & Conquer 3: Tiberium Wars
Command & Conquer 4: Tiberian Twilight
Command & Conquer: Generals: Zero Hour
Command & Conquer: Generals
Command & Conquer: Red Alert 3: Uprising
Command & Conquer: Red Alert 3
Commandos 2: Men of Courage
Commandos 3: Destination Berlin
Commandos Strike Force
Commandos: Behind Enemy Lines
Commandos: Beyond the Call of Duty
Commandos
Company of Heroes Online
Company of Heroes
Condemned: Criminal Origins
Condition Zero: Deleted Scenes
Condition Zero
Conflict: Denied Ops
Constructor
Cooking Dash: DinerTown Studios
Counter-Strike: Source
Counter-Strike
Crash Time 2: Burning Wheels
Crash Time 3: Highway Nights
Crash Time 4: The Syndicate
Crayon Physics Deluxe
Crazy Machines 2
Crazy Machines Elements
Create
Creative ALchemy
CreaVures
Creed Arena
CrimeCraft
Crusader: No Regret
Crusader: No Remorse
Cryostasis
Crysis 2
Crysis Warhead
Crysis Wars
Crysis
Crystals of Arborea
CSI: New York
Cthulhu Saves The World
Culpa Innata
Cursed Crusade, The
Cyberstorm 2: Corporate Wars
Damnation
Dangerous High School Girls In Trouble!
Dark Age of Camelot
Dark Fall 2: Lights Out
Dark Fall: The Journal
Dark Horizon
Dark Messiah Might and Magic
Dark Sector
Dark Void
Darkest Of Days
Darklands
Darkness 2, The
Darkness Within 2: The Dark Lineage
Darksiders: Wrath of War
Darkspore
Darkstar One
DarkStar
Darwinia
Day of Defeat: Source
Day of Defeat
DC Universe Online
Dead Block
Dead Horde
Dead Island
Dead Rising 2: Off The Record
Dead Rising 2
Dead Space 2
Dead Space
Death to Spies: Moment of Truth
Death Track: Resurrection
Deathmatch Classic
DeathSpank: Thongs of Virtue
DeathSpank
Defcon
Defenders of Law
Defense Grid
Delta Force: Black Hawk Down
Deluxe Hotel Imperium
Demigod
Democracy 2
Demolition Company
Demolition, Inc.
Department 42: The Mystery of the Nine
Descent 2
Descent 3
Descent
Desperados
Detour
Deus Ex: Human Revolution: The Missing Link
Deus Ex: Human Revolution
Deus Ex: Invisible War
Deus Ex
Deus Machina Demonbane
Deus
Devastation
Devil May Cry 4
Dexter: The Game
Diablo 2
Diablo: Hellfire
Diablo
Dig, The
Digital Combat Simulator: A-10C Warthog
Dimensity
Diner Dash: Seasonal Snack Pack
DinerTown Detective Agency
Din's Curse
DiRT 2
DiRT 3
DiRT
Disciples 2: Gallean's Return
Disciples 2: Rise of the Elves
Disciples 3: Renaissance
Disciples 3: Resurrection
Disney Universe
Dive: The Medes Islands
Divine Divinity
Divinity 2
Doc Clock: The Toasted Sandwich of Time
DogFighter
Doom 2
Doom 3: Resurrection of Evil
Doom 3
DOSBox
Dr. Daisy Pet Vet
Dragon Age 2
Dragon Age: Origins
Drakensang: The Dark Eye
Drakensang: The River of Time
Drawn: The Painted Tower
Dreamfall: The Longest Journey
Dreamkiller
Dress Up Rush
Driver: Parallel Lines
Driver: San Francisco
Droplitz
Duke Nukem 3D
Duke Nukem Forever
Dungeon Defenders
Dungeon Keeper 2
Dungeon Keeper
Dungeon Siege 2: Broken World
Dungeon Siege 2
Dungeon Siege 3
Dungeon Siege: Legends of Aranna
Dungeon Siege
Dungeons and Dragons Online
Dungeons of Dredmor
Dungeons: The Dark Lord
Dungeons
Dustforce
Dynasty Warriors 4 Hyper
Dynasty Warriors 6
E.Y.E: Divine Cybermancy
Earth 2140
Earth 2150: Lost Souls
Earth 2150: The Moon Project
Earth 2150
Earth 2160
Edge
Eets
Elder Scrolls 3: Morrowind, The
Elder Scrolls 4: Oblivion, The
Elder Scrolls 5: Skyrim, The
Elemental: War of Magic
Elementals: The Magic Key
Elements of War
Elven Legacy
Emberwind
Empire At War
Empire Earth 2
Empire Earth 3
Empire Earth: Art of Conquest
Empire Earth
Empire: Total War
EndWar
Enemy Territory: QUAKE Wars
Enlightenus
Enter The Matrix
Eschalon: Book 1
Eschalon: Book 2
ESN Sonar
Etherlords 2
Eufloria
Europa Universalis III
EVE Online
Everyday Shooter
Evil Genius
Exodus From the Earth
Experiment, The
F1 2000
F1 2001
F1 2010
F1 2011
Fable 3
Fable
Faerie Solitaire
Faery: Legends of Avalon
Fairway Solitaire
Fairy Island
Fall, The: Last Days of Gaia
Fallout 2
Fallout 3
Fallout Tactics
Fallout: New Vegas
Fallout
Far Cry 2
Far Cry
Farm Frenzy 2
Farming Simulator 2009
Farming Simulator 2010
Farming Simulator 2011
Fate of the World: Tipping Point
Fate of the World
FEAR 2
FEAR 3
FEAR Combat
FEAR: Extraction Point
FEAR: Perseus Mandate
FEAR
Ferrari Virtual Race
FIFA Manager 07
FIFA Manager 08
FIFA Manager 09
FIFA Manager 10
FIFA Manager 11
FIFA Manager 12
FIFA Soccer 2007
FIFA Soccer 2008
FIFA Soccer 2009
FIFA Soccer 2010
FIFA Soccer 2011
FIFA Soccer 2012
FIM Speedway Grand Prix 4
Final Doom
Final Fantasy 7
Final Fantasy 8
Finck
First Templar, The
Fish Tycoon
FlatOut 2
FlatOut Ultimate Carnage
FlatOut
Flight Simulator 9
Flight Simulator X
Flight
Flock
Flotilla
Football Manager 2006
Football Manager 2007
Football Manager 2008
Football Manager 2009
Football Manager 2010
Football Manager 2011
Football Manager 2012
Forsaken World
Fortix
Free Col
Freedom Fighters
Freedom Force vs the 3rd Reich
Freedom Force
Freelancer
FreeOrion
FreeSpace 2
FreeSpace: The Great War
Front Mission Evolved
Frontlines: Fuel of War
Frozen Synapse
FUEL
Future Wars
Gabriel Knight 3: Blood of the Sacred, Blood of the Damned
Gabriel Knight: Sins of the Fathers
Galactic Civilizations 2: Dark Avatar
Galactic Civilizations 2: Twilight of the Arnor
Galactic Civilizations 2
Games for Windows LIVE Profiles
Garden Defense
Garry's Mod
Garshasp: The Monster Slayer
Gatling Gears
Gears of War
Gemini Rue
Geometry Wars: Retro Evolved
Ghost Master
Ghost Recon Advanced Warfighter 2
Ghost Recon Advanced Warfighter
Ghost Recon
Ghostbusters: Sanctum of Slime
Ghostbusters
Giants: Citizen Kaubto
Gish
Global Agenda
Global Ops: Commando Libya
Glowfish
Glyph 2
Gobliins 2
Goblins Quest 3
Godfather 2, The
Godfather, The
God's Treasury, The
Gotcha: Celebrity Secrets
Gotham City Impostors
Gothic 2
Gothic 3
Gothic
Governor of Poker 2
Grand Ages: Rome
Grand Theft Auto 2
Grand Theft Auto 3
Grand Theft Auto 4
Grand Theft Auto: San Andreas
Grand Theft Auto: Vice City
Grand Theft Auto
Gratuitous Space Battles
Gravitron 2
Gray Matter
Greed: Black Border
Green Moon
Grey's Anatomy
GRID
GridRunner Revolution
Grim Fandango
Grotesque Tactics 2: Dungeons and Donuts
Grotesque Tactics
Ground Control 2
GT Legends
GTI Racing
Guardians Of Graxia
Guild Wars
Guilty Gear X2: Reload
Guitar Hero 3: Legends of Rock
Guitar Hero: World Tour
Gumboy: Crazy Adventures
Gumboy: Crazy Features
GUN
Gundemonium Collection
Gyromancer
H.A.W.X 2
H.A.W.X
Hacker Evolution Duality
Half-Life 2 Mod (City 7: Toronto Conflict)
Half-Life 2 Mod (FakeFactory CM10 Episode 1)
Half-Life 2 Mod (FakeFactory CM10 Episode 2)
Half-Life 2 Mod (FakeFactory CM10)
Half-Life 2 Mod (MINERVA: Metastasis)
Half-Life 2 Mod (Riot Act)
Half-Life 2 Mod (Rock 24)
Half-Life 2: Deathmatch
Half-Life 2: Episode 1
Half-Life 2: Episode 2
Half-Life 2
Half-Life Deathmatch: Source
Half-Life: Blue Shift
Half-Life: Opposing Force
Half-Life: Source
Half-Life
Halo 2
Halo: Combat Evolved
Hamilton's Great Adventure
Hammerfight
Hard Reset
Harry Potter and the Chamber of Secrets
Harry Potter and the Deathly Hallows: Part 1
Harry Potter and the Deathly Hallows: Part 2
Harry Potter and the Half Blood Prince
Harry Potter and the Philosopher's Stone
Harry Potter and the Prisoner of Azkaban
Harvest: Massive Encounter
Haunted, The: Hell's Reach
Heavy Weapons Deluxe
Hector E1: Badge of Carnage
Helldorado
Hellgate
Heretic: Shadow of the Serpent Riders
Heroes of Annihilated Empires
Heroes of Might and Magic 2
Heroes of Might and Magic 3
Heroes of Might and Magic 4
Heroes of Might and Magic 5: Hammers of Fate
Heroes of Might and Magic 5: Tribes of the East
Heroes of Might and Magic 5
Heroes of Newerth
Heroes Over Europe
HISTORY Great Battles Medieval
Hitman 2: Silent Assassin
Hitman: Blood Money
Hitman: Codename 47
Hitman: Contracts
HOARD: Dynamite Roll!
HOARD
Homefront
Homeworld 2
Homeworld: Cataclysm
Homeworld
Hospital Tycoon
Hot Wheels
Hoyle Card Games
Hoyle FaceCreator
Hoyle Games
Hoyle Puzzle and Board Games
Humans, The
Hunted: The Demon's Forge
Hydrophobia: Prophecy
iBomber Defense
Ice Age: Dawn of The Dinosaurs
Icewind Dale
Ignite
IL-2 Sturmovik: Cliffs of Dover
Incredible Machine: Even More Contraptions, The
Independence War 2: Edge of Chaos
Independence War: Defiance
Independence War
Indiana Jones and the Fate of Atlantis
Indiana Jones and the Last Crusade
Indigo Prophecy
Infernal
Insane 2
Insaniquarium Deluxe
Insurgency
Iron Grip: Marauders
Iron Man
Ishar 2: Messengers of Doom
Ishar 3: The Seven Gates of Infinity
Ishar: Legend of the Fortress
Jack Keane
Jade Empire
Jagged Alliance 2 Gold: Unfinished Business
Jagged Alliance 2
Jamestown
Jane's Advanced Strike Fighters
Jazz Jackrabbit 2
Jekyll & Hyde
Jenny's Fish Shop
Jericho
Jessica: Mysterious Journey
Jewel Quest 2
Jewel Quest 3
Jewel Quest 4: Heritage
Jewel Quest 5: The Sleepless Star
Jewel Quest 6: The Sapphire Dragon
Jewel Quest Solitaire 2
Jewel Quest Solitaire 3
Jewel Quest Solitaire
Jewel Quest
John Daly's Pro Stroke Golf 2010
Joint Task Force
Journalist Journey: The Eye of Odin
Journey of Hope
Judge Dredd: Dredd vs. Death
Juiced 2: Hot Import Nights
Jungle Racers
Jurrasic Park: The Game
Just Cause 2
Just Cause
Kane & Lynch 2: Dog Days
Kane & Lynch: Dead Men
Katawa Shoujo
Kelly Green: Garden Queen
Killing Floor
King Arthur: The Roleplaying Game
Kingdoms of Amalur: Reckoning
King's Bounty: Crossworlds
King's Bounty: The Legend
Kitten Sanctuary
Kung Fu Panda
L.A. Noire
Lara Croft and the Guardian of Light
Last Express, The
Last Remnant, The
Lead and Gold: Gangs of the Wild West
League of Legends
Left 4 Dead 2
Left 4 Dead
Left Behind 3: Rise of the Antichrist
Legacy of Kain: Defiance
Legend: Hand of God
Legendary
LEGO Batman
LEGO Harry Potter: Years 5-7
LEGO Indiana Jones 2
LEGO Indiana Jones
LEGO Pirates
LEGO Star Wars 2
LEGO Star Wars 3: The Clone Wars
LEGO Star Wars: The Complete Saga
Leisure Suit Larry: Box Office Bust
Limbo
Line Rider
Lionheart: Kings' Crusade
Little Big Adventure
Little Shop: Memories
Logitech G-Series Keyboard Macros
Logitech Profiler
Logitech SetPoint 2
Longest Journey, The
Lord of the Rings: Conquest
Lord of the Rings: The Return of the King
Lord of the Rings: War in the North
Lost Horizon
Lost Inca Prophecy, The
Lost Planet 2
Lost Planet Colonies Edition
Lost Planet Extreme Condition
Lost Realms: The Curse of Babylon
Lost Via Domus
Love & Death: Bitten
Lumines
Lure of the Temptress
Luxor 2
M.I.A. Mission in Asia
Madballs in Babo: Invasion
Mafia 2
Mafia
Magic Carpet
Magic: The Gathering – Duels of the Planeswalkers
Magic: The Gathering
Magicka
Magnetis
Mah Jong Quest 2
Mah Jong Quest 3
Mah Jong Quest
MahJong Suite
Majesty 2
Major League Baseball 2011
Manhunt 2
Manhunt
ManiaPlanet
Many Years Ago
Mari0
Martian Memorandum
Marvel Ultimate Alliance
Mass Effect 2
Mass Effect 3
Mass Effect
Master Levels of Doom 2
Master of Magic
Master of Orion 2: Battle at Antares
Master of Orion
Mata Hari
Matrix: Path of Neo, The
Maw, The
Max Payne 2: The Fall of Max Payne
Max Payne
MDK 2 HD
MDK 2
MDK
Mean Streets
Mech Commander 2
Mech Commander
Mecho Wars
MechWarrior 2: 31st Century Combat
MechWarrior 2: Mercenaries
MechWarrior 3
MechWarrior 4: Black Knight
MechWarrior 4: Mercenaries
MechWarrior 4: Vengeance
Medal of Honor Airborne
Medal of Honor Allied Assault
Medal of Honor Pacific Assault
Medal of Honor
Medieval 2: Total War: Americas
Medieval 2: Total War: Britannia
Medieval 2: Total War: Crusades
Medieval 2: Total War: Teutonic
Medieval 2: Total War
Men of Valor
Men of War: Assault Squad
Men of War: Vietnam
Men of War
Mercenaries 2: World In Flames
Mercenaries 2
Metro 2033
Miasma: Citizens of Free Thought
Microsoft Games
Midnight Club 2
Might & Magic Heroes 6
Mind's Eye: Secrets of the Forgotten
Minecraft
Mini Ninjas
Mirror's Edge
Misadventures of P.B. Winterbottom, The
Mischief By Alimardankhan
Missionforce: Cyberstorm
Monday Night Combat
Monkey Island 2: LeChuck's Revenge
Monkey Island
Monopoly
Monster Mash
Mortyr: Operation Thunderstorm
Mosby's Confederacy
Mount&Blade Warband
Mount&Blade With Fire and Sword
Mount&Blade
Movies, The
Mr. Robot
Mr.Jones' Graveyard Shift
Multiwinia
Mumble
MX vs ATX Reflex
Myst 3: Exile
Myst 4: Revelation
Myst 5: End of Ages
Myst
Mysterious City: Vegas
Mysterious Travel: The Magic Diary
Mystery in London
Mystery of the Mary Celeste, The
Mystic Emporium
Mystical Solitaire
Nail'd
Nancy Drew: Alibi in Ashes
Napoleon: Total War
NASA Moonbase Alpha
Nat Geo Adventure: Lost City of Z
Nat Geo Games: Mystery of Cleopatra
Nation Red
Natural Selection 2
NBA 2K10
NBA 2K11
NBA 2K12
NBA 2K9
NBA Live 07
NBA Live 08
NecrovisioN: Lost Company
NecrovisioN
Need For Speed World
Need For Speed: Carbon
Need For Speed: Hot Pursuit 2
Need For Speed: Hot Pursuit
Need For Speed: Most Wanted
Need For Speed: ProStreet
Need For Speed: Shift 2 Unleashed
Need For Speed: Shift
Need For Speed: The Run
Need For Speed: Undercover
Need For Speed: Underground 2
Need For Speed: Underground
Neverwinter Nights 2
Neverwinter Nights
Next BIG Thing, The
NHL 2006
NHL 2007
NHL 2008
NHL 2009
NHL 2010
NightSky
Nimbus
Ninja Blade
No Gravity
No One Lives Forever 2: A Spy In H.A.R.M.'s Way
No One Lives Forever
Normality
NOX
Nuclear Dawn
Numen: Contest of Heroes
NyxQuest: Kindred Sprits
Obulis
Oddworld: Abe's Exoddus
Oddworld: Abe's Oddysee
Oddworld: Munch's Oddysee
Oddworld: Stranger's Wrath
Officers
Off-Road Drive
On the Rain-Slick Precipice of Darkness, Episode One
On the Rain-Slick Precipice of Darkness, Episode Two
One Unit: Whole Blood
OpenTTD
Operation Flashpoint: Dragon Rising
Operation Flashpoint: Red River
Operation Flashpoint
Orcs Must Die!
Origin
Osmos
Otherside, The: Realm of Eons
Outcast
Outpost 2: Divided Destiny
OutRun 2006: Coast 2 Coast
Overlord 2
Overlord
Painkiller Gold
Painkiller: Overdose
Painkiller: Redemption
Painkiller: Resurrection
Pandora Directive, The
Paradise Quest
Paraworld
Pariah
Passport to Perfume
Path, The
Patrician 3
Patrician 4: Conquest By Trade
PAYDAY: The Heist
Peggle Deluxe
Peggle Extreme
Peggle Nights
Peggle WOW Edition
Penumbra: Black Plague
Penumbra: Overture
Penumbra: Requiem
Perimiter 2: New Earth
Phantasmagoria 2: A Puzzle of Flesh
Phantasmagoria
Pharaoh
Pirates of Black Cove
Pirates!
Pirates, Vikings, and Knights 2
Plain Sight
Planescape: Torment
Plant Tycoon
Plants vs. Zombies
Pocket Tanks
Poker Night at the Inventory
Political Machine 2008, The
Polynomial, The
Port Royale 2
Portal 2
Portal
Post Apocolypic Mayhem
Post Mortem
Postal 2
Pound of Ground
Power Rangers Super Legends
Precursors
Prey
Prince of Persia: The Sands of Time
Prince of Persia: The Two Thrones
Prince of Persia: The Warrior Within
Prince of Persia
Pro Evolution Soccer 2008
Pro Evolution Soccer 2009
Pro Evolution Soccer 2010
Pro Evolution Soccer 2011
Pro Evolution Soccer 2012
Pro Evolution Soccer 5
Pro Evolution Soccer 6
Project: Snowblind
Prototype
Psi Ops: The Mindgate Conspiracy
Psychonauts
PT Boats: South Gambit
Pure
Purify Puzzle
Puzzle Agent 2
Puzzle Agent
Puzzle Hero
Puzzle Quest 2
Puzzle Quest: Challenge of the Warlords
Puzzle Quest: Galactrix
Puzzlegeddon
Quake 2: Ground Zero
Quake 2: The Reckoning
Quake 2
Quake 3 Arena
Quake 3 Team Arena
Quake 4
Quake Live
Quake Mission Pack 1: Scourge of Armagon
Quake Mission Pack 2: Dissolution of Eternity
Quake
Quantum of Solace
Quantz
Race 07
Rag Doll Kung Fu
RAGE
Railroad Tycoon 2
Railroads!
Rainbow Six Vegas 2
Rainbow Six Vegas
Rainbow Six: Covert Ops Essentials
Raptor: Call of the Shadows
Real Crimes: Jack the Ripper
Real Warfare 2: Northern Crusades
Realms of Arkania 2
Realms of Arkania
Realms of the Haunting
realMyst
Reaxxion
Recettear: An Item Shop's Tale
Red Faction 2
Red Faction Guerrilla
Red Faction: Armageddon
Red Faction
Red Orchestra 2: Heroes of Stalingrad
Reel Deal Slots Adventure World Tour
Reload: Target Down
Renegade Ops
Reservoir Dogs
Resident Evil 5
Restaurant Empire 2
Return of the Incredible Machine Contraptions
Return to Castle Wolfenstein
Revenge of the Titans
Revolution Under Siege
Richard Burns Rally
RIFT
Rise of Legends
Rise of Nations
Rise of the Argonauts
Rise of the Triad
Risen
Risk Factions
Riven
Robinson's Requiem
RoboBlitz
Rochard
Rock of Ages
Rocket Knight
Rockin' Dead, The
Rockstar Social Club
Rogue Trooper
Rogue Warrior
Roller Coaster Tycoon 2
Roller Coaster Tycoon 3
Roller Coaster Tycoon
Romancing the Seven Wonders: Taj Mahal
Rome: Total War: Alexander
Rome: Total War: Barbarian Invasion
Rome: Total War
Route 66
Royal Marines Commando
Rugby Challenge
Runaway: A Road Adventure
Runaway: A Twist of Fate
Runes of Magic
Runespell: Overture
RUSE
RUSH
Saboteur, The
Sacred 2: Fallen Angel
Sacred
Sacrifice
Saint's Row 2
Saint's Row: The Third
Saira
Sam & Max S1E1: Culture Shock
Sam & Max S1E2: Situation Comedy
Sam & Max S1E3: The Mole, The Mob, and the Meatball
Sam & Max S1E4: Abe Lincoln Must Die
Sam & Max S1E5: Reality 2.0
Sam & Max S1E6: Bright Side of the Moon
Sam & Max S2E1: Ice Station Santa
Sam & Max S2E2: Moai Better Blues
Sam & Max S2E3: Night of the Raving Dead
Sam & Max S2E4: Chariots of the Dogs
Sam & Max S2E5: What's New, Beelzebub
Sam & Max S3E1: The Penal Zone
Sam & Max S3E2: The Tomb of Sammun-Mak
Sam & Max S3E3: They Stole Max's Brain!
Sam & Max S3E4: Beyond the Alley of the Dolls
Sam & Max S3E5: The City That Dares Not Sleep
Samurai Warriors 2
Sanctum
Sanitarium
Savage 2: A Tortured Soul
Saving Private Sheep
Saw
SBK: Superbike World Championship 2011
Scavenger
Scooby Doo: First Frights
Scorpion: Disfigured
Scourge Project E1-E2, The
Scratches
ScummVM
Second Sight
Secret Maryo Chronicles
Secret Mission: The Forgotten Island
Secrets of The Ark: A Broken Sword Game
Section 8 Prejudice
Section 8
SEGA Genesis Classics
SEGA Mega Drive Classics
SEGA Rally Revo
Sengoku
Septerra Core: Legacy of the Creator
Sequence
Serious Sam 3: BFE
Serious Sam Classic: The First Encounter
Serious Sam HD: The Second Encounter
Serious Sam HD
Serious Sam: Double D
Settlers 2
Settlers 7
Settlers: Rise of an Empire, The
Shadow Ops: Red Mercury
Shadowgrounds: Survivor
Shadowgrounds
Shank 2
Shank
Shatter
Shattered Horizon
Shellshock 2: Blood Trails
Ship Simulator: Extremes
Shogo: Mobile Armor Division
Shogun 2: Total War
Shutter Island
Silent Hill Homecoming
Silent Hunter 3
Silent Hunter 4: Wolves of the Pacific
Silent Hunter 5: Battle of the Atlantic
Sim City 4
Simon the Sorcerer 4: Chaos Happens
Sims 2, The
Sims 3, The
Sims: Medieval, The
SiN Episodes: Emergence
SiN
Singularity
Sins of a Solar Empire
SkyDrift
Smugglers 3
Sniper Elite
Sniper Ghost Warrior
So Blonde
Sol Survivor
Solar 2
Soldier of Fortune 2: Double Helix
Soldier of Fortune
SolSuite
Sonic & SEGA All-Stars Racing
Sonic Adventure DX
Sonic Generations
Space Giraffe
Space Quest 2 VGA
Space Siege
Space, Pirates, and Zombies
SpaceChem
Spear of Destiny
Spectromancer
SpellForce 2: Shadow Wars
SpellForce
Spider-Man 3
Spider-Man: Friend or Foe
Spiderman: Shattered Dimensions
Spider-Man: Web of Shadows
Splinter Cell: Chaos Theory
Splinter Cell: Double Agent
Splinter Cell: Pandora Tomorrow
Splinter Cell
Split Second
Spooky Spirits
Spore
Spring
Stacked With Daniel Negreanu
Stacking
STALKER: Call of Pripyat
STALKER: Clear Sky
STALKER: Shadow of Chernobyl
Star Ruler
Star Trek Online
Star Trek: Bridge Commander
Star Trek: Legacy
Star Wars: Battlefront 2
Star Wars: Dark Forces
Star Wars: Empire at War
Star Wars: Forces of Corruption
Star Wars: Galactic Battlegrounds
Star Wars: Jedi Knight 2: Jedi Outcast
Star Wars: Jedi Knight: Dark Forces 2
Star Wars: Jedi Knight: Jedi Academy
Star Wars: Jedi Knight: Mysteries of the Sith
Star Wars: Knights of the Old Republic 2
Star Wars: Knights of the Old Republic
Star Wars: Republic Commando
Star Wars: The Force Unleashed 2
Star Wars: The Force Unleashed
Star Wars: The Old Republic
Star Wolves
StarCraft 2
StarCraft
Starlancer
Starpoint Gemini
Starscape
Starship Troopers
Star-Twine
Steam
Steel Armor
Steel Storm: Burning Retribution
Still Life 2
Still Life
Stoked: Big Air Edition
Storm: Frontline Nation
Stormrise
Stranglehold
Street Fighter 4
Street Karate
Streets of Moscow
Strike Ball 2
Strong Bad's Cool Game for Attractive People E1: Homestar Ruiner
Strong Bad's Cool Game for Attractive People E2: Strong Badia the Free
Strong Bad's Cool Game for Attractive People E3: Baddest of the Bands
Strong Bad's Cool Game for Attractive People E4: Dangeresque 3
Strong Bad's Cool Game for Attractive People E5: 8-Bit Is Enough
Stronghold 2
Stronghold 3
Stronghold: Crusader
Stronghold
Stubbs the Zombie
Sudeki
Sudoku Up
Super Cow
Super Laser Racer
Super Meat Boy
Super Street Fighter 4
Superior Save
Supertuxcart
Supreme Commander 2
Supreme Commander: Forged Alliance
Supreme Commander
Supreme Ruler: Cold War
Swarm Arena
SWAT 4: The Stetchkov Syndicate
SWAT 4
Sword of the Stars 2: Lords of Winter
Swords and Soldiers HD
Syberia 2
Syberia
Syndicate (2012)
Syndicate
System Shock 2
Tachyon: The Fringe
Take On Helicopters
Tales of Bingwood, The
Tales of Monkey Island Chapter 1: Launch of the Screaming Narwhal
Tales of Monkey Island Chapter 2: The Siege of Spinner Cay
Tales of Monkey Island Chapter 3: Lair of the Leviathan
Tales of Monkey Island Chapter 4: The Trial and Execution of Guybrush Threepwood
Tales of Monkey Island Chapter 5: Rise of the Pirate God
Tank Combat
Tank Universal
Team Fortress 2
Team Fortress Classic
TeamSpeak 2
TeamSpeak 3
Teenage Mutant Ninja Turtles
TeeWorlds
Telltale Texas Hold'em
Terminator Salvation
Terraria
Test Drive Unlimited 2
Test Drive Unlimited
Tex Murphy: Overseer
They're Alive!
Thief 2: The Metal Age
Thief 2
Thief 3: Deadly Shadows
Thief
Tibia
Tidalis
Tiger Woods PGA Tour 12: The Masters
Time Gentlemen, Please!
Titan Quest: Immortal Throne
Titan Quest
To The Moon
Tobe's Vertical Adventure
ToCA Race Driver 3
Toki Tori
Tomb Raider 2
Tomb Raider: Anniversary
Tomb Raider: Legend
Tomb Raider: Underworld
Tomorrow War, The
Torchlight
Total Immersion Racing
Total Overdose
TrackMania
Transformers 2: Revenge of The Fallen
Transformers: War for Cybertron
Transformers
Trapped Dead
Trials 2: Second Edition
Tribes: Ascend
Trine 2
Trine
Trino
Tron 2.0
Tron Evolution
Tropico 2
Tropico 3
Tropico 4
Tropico
True Crime: Streets of LA
Tudors, The
Twin Sector
Two Worlds 2: Castle Defense
Two Worlds 2
Two Worlds
Tyrian 2000
Ubisoft Game Launcher
UK Truck Simulator
Ultima Underworld 2
Ultima Underworld
Ultimate Doom
Ultimate Spider-Man
Ultimate Stunts
Under A Killing Moon
Undiscovered World: The Incan Sun
Undying
Universe At War: Earth Assault
Universe Sandbox
Unreal 2: The Awakening
Unreal Gold
Unreal Tournament 2004
Unreal Tournament 3
Unreal Tournament
Uplink
Vampire: The Masquerade: Bloodlines
Vampire: The Masquerade: Redemption
VDrift
Velvet Assassin
Venetica
Ventrilo
Vessel
Vietcong 2
Virtua Tennis 2009
Virtua Tennis 4
Virtual Families
Virtual Villagers 2: The Lost Children
Virtual Villagers 3: The Secret City
Virtual Villagers 4: The Tree of Life
Virtual Villagers 5: New Believers
Void, The
VVVVVV
Wallace And Grommit's Grand Adventures E1: Fright of the Bumblebees
Wallace And Grommit's Grand Adventures E2: The Last Resort
Wallace And Grommit's Grand Adventures E3: Muzzled
Wallace And Grommit's Grand Adventures E4: The Bogey Man
WALL-E
Wanted: Weapons of Fate
War Inc. Battlezone
WarCraft 3
Warfare Reloaded
Warhammer 40K: Dawn of War 2: Retribution
Warhammer 40K: Dawn of War 2
Warhammer 40K: Dawn of War: Dark Crusade
Warhammer 40K: Dawn of War: Soulstorm
Warhammer 40K: Dawn of War
Warhammer 40K: Space Marine
Warhammer: Battle March
Warhammer: Mark of Chaos
Warriors Orochi
Warsow
Warzone 2100
Wasteland Angel
Watchmen: The End is Nigh
Wheelman
Wildlife Park 3
Wing Commander 2
Wing Commander 3
Wing Commander: Privateer
Wing Commander
Wings of Prey
Winning Eleven 9
Winter Sports 2011
Winter Sports 2012
Wisegal
Witcher 2, The
Witcher, The
Wizard's Hat
Wolfenstein 3D: Spear of Destiny
Wolfenstein 3D
Wolfenstein
Women's Murder Club: A Darker Shade of Grey
Women's Murder Club: Death in Scarlet
Women's Murder Club: Little Black Lies
Women's Murder Club: Twice in a Blue Moon
Wonderful End of the World, The
World in Conflict
World of Goo
World of Tanks
World of Warcraft
Worms Reloaded
Worms: Ultimate Mayhem
WRC 2 FIA World Rally Championship
WRC FIA World Rally Championship
X2: The Threat
X3: Albion Prelude
X3: Reunion
X3: Terran Conflict
X-Blades
X-COM: Terror From The Deep
X-COM: UFO Defense
Xfire
XIII
X-Men Legends 2
X-Men Origins: Wolverine
X-Men: The Official Game
Xmoto
Xotic
XPand Rally
Yar's Revenge
You Don't Know Jack
YoudaSurvivor2v1
Ys: Ark of Napishtim
Ys: Oath in Felghana
Ys: The Oath in Felghana
Zeit²
Zen of Sudoku
Zeno Clash
Zombie Driver: Summer of Slaughter
Zombie Driver
Zombie Shooter 2
Zombie Shooter
Zoo Tycoon
Zuma Deluxe
Zuma's Revenge: Adventure
Zuma's Revenge
// System Requirements //
Microsoft .NET Framework 4.0+
// Download URLs //
License
Version
Download
Size
New Edition
Freeware
v1.41
reserved
1.19 MB
v2.01
460 KB
Old Edition
Freeware
v4.24
423 KB
(No Homepage | SourceForge)
| | |
| --- | --- |
| | If some download link is missing, and you do need it, just please send an email (along with post link and missing link) to remind us to reupload the missing file for you. And, give us some time to respond. |
| | If there is a password for an archive, it should be "appnee.com". |
| | Most of the reserved downloads (including the 32-bit version) can be requested to reupload via email. |