This work is licensed under a
Creative Commons Attribution-NonCommercial-ShareAlike 4.0 International License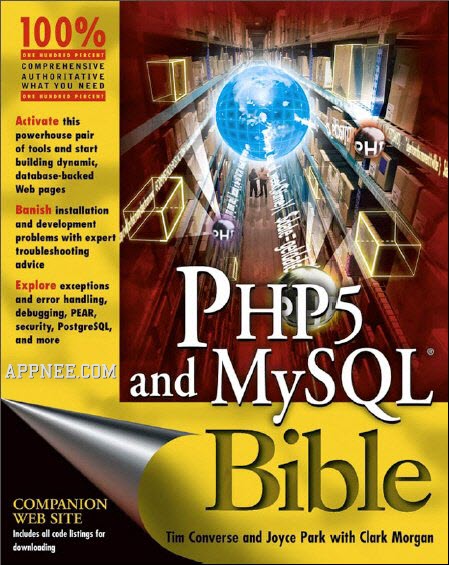 In fact, at first glance, PHP5 and MySQL Bible is really some "old" (released in 2004, and the involved subjects are PHP5 and MySQL4 which seem outdated. But as one of the classic works of Wiley Publishing's Bible series, its 1080 pages' content is absolutely worth to drill down and study.
For starters, PHP5 and MySQL Bible includes not only the most basic knowledge, such as: the setup of PHP development environment, PHP basic grammar, how to create database and data table in MySQL… In addition, it also comprehensively introduced the principle and basic programming knowledge for dynamic web development technology based on PHP and MySQL in detail.
In short, PHP5 and MySQL Bible is very suitable for beginners to start with PHP and MySQL technology. On the other hand, it can also help PHP developers who have certain programming experience to solve many practical problems in daily work.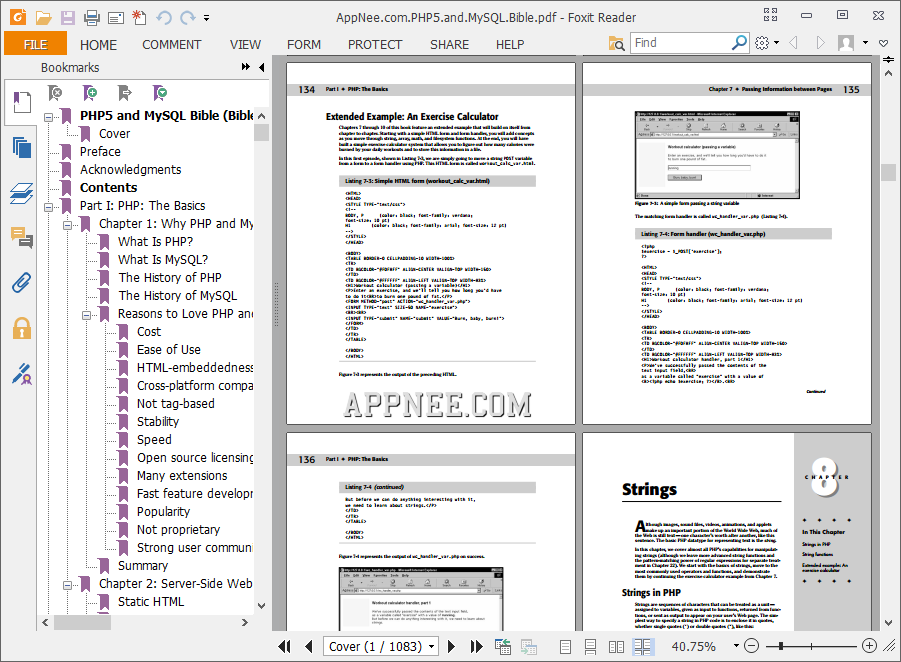 // Table Of Contents //
Part I: PHP: The Basics.

Chapter 1: Why PHP and MySQL?
Chapter 2: Server-Side Web Scripting.
Chapter 3: Getting Started with PHP.
Chapter 4: Adding PHP to HTML.
Chapter 5: Syntax and Variables.
Chapter 6: Control and Functions.
Chapter 7: Passing Information between Pages.
Chapter 8: Strings.
Chapter 9: Arrays and Array Functions.
Chapter 10: Numbers.
Chapter 11: Basic PHP Gotchas.

Part II: PHP and MySQL.

Chapter 12: Choosing a Database for PHP.
Chapter 13: SQL Tutorial.
Chapter 14: MySQL Database Administration.
Chapter 15: PHP/MySQL Functions.
Chapter 16: Displaying Queries in Tables.
Chapter 17: Building Forms from Queries.
Chapter 18: PHP/MySQL Efficiency.
Chapter 19: PHP/MySQL Gotchas.

Part III: Advanced Features and Techniques.

Chapter 20: Object-Oriented Programming with PHP.
Chapter 21: Advanced Array Functions.
Chapter 22: String and Regular Expression Functions.
Chapter 23: Filesystem and System Functions.
Chapter 24: Sessions, Cookies, and HTTP.
Chapter 25: Types and Type Conversions.
Chapter 26: Advanced Use of Functions.
Chapter 27: Mathematics.
Chapter 28: PEAR.
Chapter 29: Security.
Chapter 30: Configuration.
Chapter 31: Exceptions and Error Handling.
Chapter 32: Debugging.
Chapter 33: Style.

Part IV: Connections.

Chapter 34: PostgreSQL.
Chapter 35: Oracle.
Chapter 36: PEAR Database Functions.
Chapter 37: E-mail.
Chapter 38: PHP and JavaScript.
Chapter 39: PHP and Java.
Chapter 40: PHP and XML.
Chapter 41: Web Services.
Chapter 42: Graphics.

Part V: Case Studies.

Chapter 43: Weblogs.
Chapter 44: User Authentication.
Chapter 45: A User-Rating System.
Chapter 46: A Trivia Game.
Chapter 47: Converting Static HTML Sites.
Chapter 48: Data Visualization with Venn Diagrams.

Appendix A: PHP for C Programmers.
Appendix B: PHP for Perl Hackers.
Appendix C: PHP for HTML Coders.
Appendix D: PHP Resources.
// Book Example Codes //
// Download URLs //

 (16.4 MB | Homepage)
// Related Posts //
Professional C# 6 and .NET Core 1.0 HD
Slam Dunk all video game ROMs + Emulators
Diablo 1 HD MOD – Most popular multi-player
[2016.2 Fixed] JetBrains PhpStorm All Editions Universal License
Applications = Code + Markup CHM, HD PDF
Photoshop CC Bible color page HD PDF
Thinking in C# HD PDF, DOC
Knights of Valour 3 ROM, BIOS and Emulator
Grand Theft Auto 2 – Classic 2D Edition
Who Moved My Cheese? HD PDF, EPUB, MOBI,
If any download link breaks down, remember to tell us to update for you (find the email address @ About page)
Due to daily work, we can't reply you in time, please understand. But we will reply every email, except the mistakes in sending or receiving made by email system.
Any resource downloaded from AppNee, we still suggest you use antivirus software to do a full scan (especially the more authoritative and comprehensive online scanning websites VirusTotal or VirSCAN), and then judge by yourselves to decide whether to use.
If you ran into any error message when using some softeware, you can post them to our support forum (en.AppNee.com), where we will do our best to find the most effective solution for you.