| | |
| --- | --- |
| Ⅰ | This article along with all titles and tags are the original content of AppNee. All rights reserved. To repost or reproduce, you must add an explicit footnote along with the URL to this article! |
| Ⅱ | Any manual or automated whole-website collecting/crawling behaviors are strictly prohibited. |
| Ⅲ | Any resources shared on AppNee are limited to personal study and research only, any form of commercial behaviors are strictly prohibited. Otherwise, you may receive a variety of copyright complaints and have to deal with them by yourself. |
| Ⅳ | Before using (especially downloading) any resources shared by AppNee, please first go to read our F.A.Q. page more or less. Otherwise, please bear all the consequences by yourself. |
| | This work is licensed under a Creative Commons Attribution-NonCommercial-ShareAlike 4.0 International License. |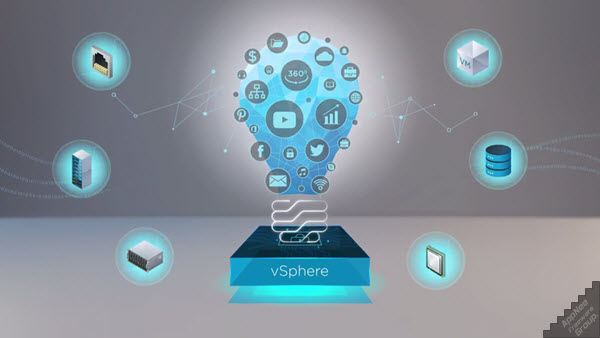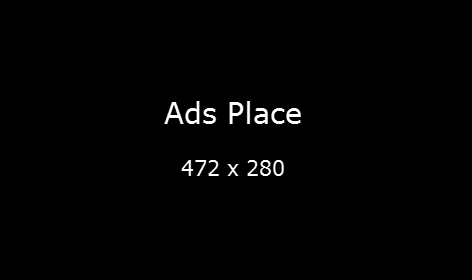 VMware vSphere (formerly VMware Infrastructure 4) is currently the world's leading server virtualization solution (including a series of products, of which ESXi and vCenter Server are used a lot), also the most stable and reliable cloud computing virtualization platform, developed by VMware. It can separate applications and operating systems from the underlying hardware, so as to simplify IT operations.
The core of VMware vSphere products suite is the virtual machine hypervisor VMware ESXi – the foundation on which other products rely. VMkernel provides CPU scheduling, memory management, and data processing for virtual exchange, so as to manage virtual machine to access the underlying physical hardware. vCenter Server can configure and centrally manage virtual machines, such as creating virtual machine templates, customizing virtual machines, and rapid allocation and deployment of virtual machines. In addition, VMware vSphere also provides features such as vSphere vMotion, vSphere Distributed Resource Scheduler (DRS), and more.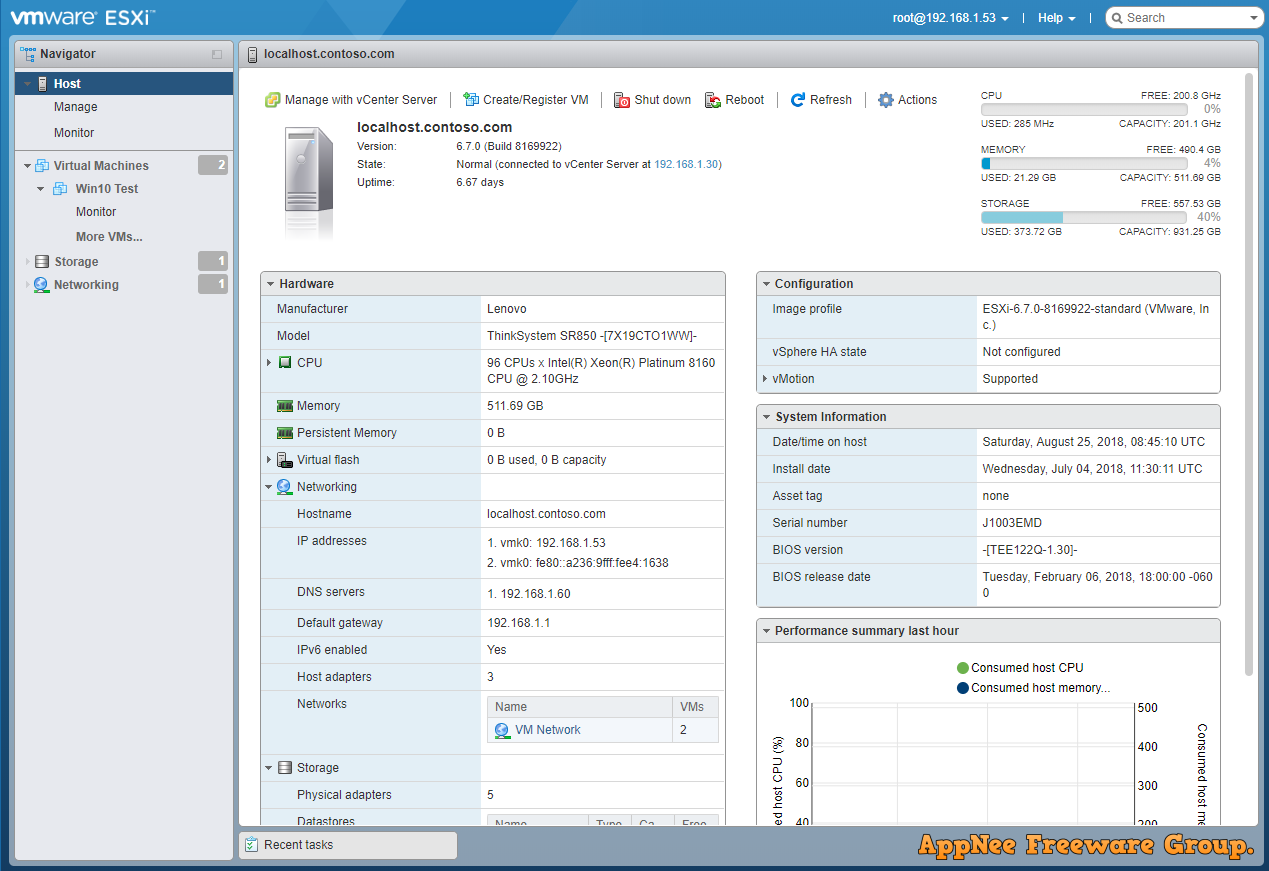 Similar to Citrix's XenServer, ESXi is a powerful virtual system that can be installed and run independently on a single host, also one of the platforms frequently used for server virtualization. Unlike other VMware Workstation software that we have seen before, it is no longer dependent on the host operating system. After ESXi is installed, we can establish remote connection and control via vSphere Client, then create multiple VMS (virtual machines) on the ESXi server, then install Linux/Windows Server OS on these virtual machines to turn them into virtual servers that can provide various network application services. In addition, ESXi also supports hardware virtualization at the kernel level, so the virtual servers running on it are as good as the ordinary hardware servers in terms of performance and stability, yet much easier to manage and maintain.
Before VMware vSphere came along, servers were structured like this: Only one operating system could be installed on a server. If the OS is Windows, and it uses only about 10% of the server resources, then the idle resources are not available to other operating systems. If it is used as a browser server, and we need an additional client server, then you will have to buy another server to do this. This has undoubtedly resulted in a huge waste of resources and increased costs. With VMware vSphere, the architecture of a server can look like this: It realizes the allocation of the underlying hardware resources of a physical server, making it possible to set up and run multiple operating systems on the same server.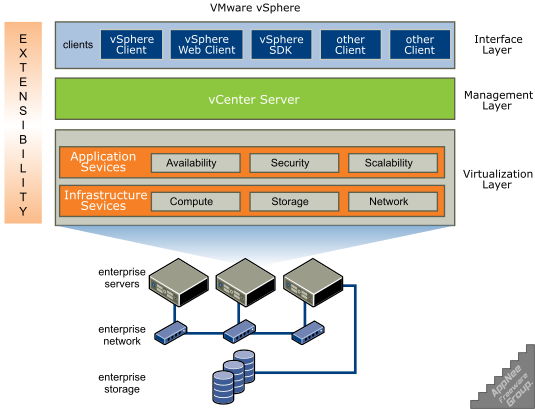 // Main Applications //
Data Center Consolidation and Business Continuity
Simplify data center operations and management at scale, increase business efficiency, and decrease CapEx and OpEx through virtualization.
Enhanced App Performance and Hybrid Cloud
Take advantage of the latest innovations in hardware to turbocharge the performance of existing applications. Support new workloads and use cases, such as machine learning and artificial intelligence. Balance workloads and prioritize resources to ensure top performance for your critical applications. Extend on-premises environments to vSphere-based public clouds, such as VMware Cloud on AWS, and enjoy a streamlined hybrid cloud experience.
Virtualized Big Data
Simplify your big data infrastructure management while making it more cost effective. VMware is the best platform for big data just as it is for traditional applications. Minimize downtime with uniform, cost-effective failover protection; easily organize, prioritize, and share data center resources; and provision virtual networking across multiple hosts and clusters from a centralized interface.
Legacy Unix to Virtual Linux Migration
Get high performance, enhanced availability, larger VM capacity, and disaster recovery capabilities when you migrate legacy Unix infrastructure to virtualized Linux. Move an entire running virtual machine from one physical server to another, without downtime, and gain rich troubleshooting capabilities, including rollback and recovery for patching and updating.
Application and Infrastructure Security
Secure applications, infrastructure, data, and access with a comprehensive, built-in architecture and a simple, policy-driven model. Protect apps running on vSphere using machine learning and behavioral analytics to monitor threats and automate responses. Get faster visibility and protection with a scalable solution, no agents to manage, and minimal overhead.
Containerized Modern Apps
Bridge the gap between IT and developers with vSphere Integrated Containers. Leveraging the core capabilities of vSphere, your IT teams can run both traditional and containerized applications side by side on the same infrastructure, without the need for additional tooling or training.
Support for Remote Offices and Branch Offices
Manage your remote and branch offices with little or no local IT staff. Enable rapid provisioning of servers through virtualization, minimization of host configuration drift, and enhanced visibility into regulatory compliance across multiple sites.
// Contained Components //
VMware vSphere
VMware vCloud
VMware vSphere with Operations Management
VMware vSphere Enterprise
VMware vSphere Standard
VMware vSphere Essentials
// Universal License Keys //
Product
License Key
VMware vSphere 6 Hypervisor

MU0W2-2A302-48979-7V3X0-8PUQ4
1G4H2-6HH01-089R9-5K8XP-2G8QF
NV652-6PJ06-M8439-PV070-0V0QF
0V6W0-FT3EM-488V9-E83E4-9AK38
0Z4M8-4DKDN-088C8-THCXP-AK214

VMware vSphere 6 Hypervisor for Embedded OEMs

JZ002-8429K-08428-F09G6-9YRM2
NG21K-FVJD6-480M8-UJ1ZH-0GA24
NG2HR-F411N-M89P0-M9CNK-3YAH8
HC2TK-FVKE2-H84V8-A39X2-2Z8K2
MA2W2-8939K-08099-MR250-0YA0A

VMware vSphere 6 Desktop Host

1Y28U-DJ042-489V0-NUA7P-CGAQ6
4F6JH-A714N-M8EU8-C3CQ2-AGRM6
HY698-2XHEL-H80G1-E9C50-17R28
HF2E0-8WKE4-089G9-4H9NM-1K0P4
1U0TK-DZLD4-H8109-AV17M-A6RLA

VMware vSphere 6 for vCloud Service Provider Standard

4V49H-DC154-48D68-JV85K-0UU28
HF45R-AY08K-08DV0-91A50-0GHL4
MU0J8-86H0P-489H9-L9CGM-AFH22
0A4WH-80K8L-089L9-V317H-1FH2A
5V48H-6U015-H88Y1-321ZH-0PUQD

VMware vCloud Suite 6 Standard

HA0R8-4GJ9J-08820-5C0EK-A2AK4
0Y4JR-DC196-H85G1-V8A7M-ACU34
5V2M8-DZK5Q-08039-QV0Z2-8YHL4
1V040-AG15P-H80F1-WH9X2-07HPA
HG040-F3LD6-485T9-N00NP-2Z05F

VMware vCloud Suite 6 Advanced

MY4RK-D208P-H89V0-DC85K-3YUQF
JF6DK-28053-M8ED8-4K1NH-A7054
1V45A-6139K-M89F8-U18X4-3PU6F
4U04A-0T05M-480L8-222X2-1YR60
NG08U-FULDM-M80J8-8T27M-CPAHD

VMware vCloud Suite 6 Enterprise

NG4R2-2JK5K-M80X8-0T2QH-AC2K4
0Y6XH-ATL4J-48E59-20154-36H58
1Y6NH-4QJ01-H8001-GL25H-2GU62
1A6MR-24LEN-08551-8K1EH-CF2Q4
4Z018-2V0D3-H88T8-XA0NP-AQK66

VMware vSphere with Operations Management 6 Standard

HG60A-06005-M81M8-KHA50-0L8Q4
JY0XU-0F241-H8E50-73CQM-2VHH0
0G65A-250EP-080U8-V80X0-07U0D
0V0TR-44311-M89Z8-E33Q0-8YRLD
4Y09H-2UJ10-084F9-Y12N4-1F268

VMware vSphere with Operations Management 6 Advanced

0C2J0-A9LEJ-H84T9-NU9N6-CLHK6
0C0WR-AKJEP-488U0-NV17H-2F8J6
4A0H8-0X295-H8DM1-VL9G4-1UKM6
0V2DR-4T0EL-480U1-4L85K-3KUH4
1U490-2JL15-M8818-KH174-07202

VMware vSphere with Operations Management 6 Enterprise

JY2WK-6G10L-H81Z0-QUCZP-1Y842
5Z6HK-61L00-M84A0-VR2GP-26UK4
4Y2NU-4Z301-085C8-M18EP-2K8M8
1Y48R-0EJEK-084R0-GK9XM-23R52
MF4M2-4RL8P-085L8-QVANK-8P832

VMware vSphere 6 Foundation

MU2RU-0U14N-088G8-8115K-2F216
JU010-FN18H-480A8-8C0GP-37808
4Z418-2WK06-M80M9-HT2G4-AFR32
4C090-8KL90-H8E10-8307H-3ZU16
HF0RR-4NKDQ-080Y1-5V8XH-87206

VMware vSphere 6 for Embedded OEMs

4V09A-8RJDQ-080F9-7J2NP-CZRM4
1Y002-FT057-480F9-AL150-9Q808
4C2WA-0YH91-M8490-7V17H-23R0D
4V2X0-65082-48909-HJ8X0-3ZRJ6
JF20A-63L43-M8EQ8-1ACQM-2LH16

VMware vSphere 6 Embedded Essentials

0F410-A5H0M-088M0-01AG4-2PRL6
MU4MK-6D391-M81M1-Q0076-92038
1U2R2-DAK17-M85G0-LJ8Q6-370N6
1U0EK-8KLEK-H88C1-0RAXP-AF24A
MG4DA-6XHEQ-M8DD0-702NM-0GAL8

VMware vSphere 6 Embedded Foundation

HV2DK-AU10P-H8D79-698NP-1F0MD
0Z0EU-0RH4J-H80P8-HC2ZK-2Z2LD
5U2D0-66L5Q-M8D48-V98Q2-9LR20
5Z4HH-0G20J-M84U1-8CCXK-8L8L6
1Z2TH-67346-089P9-DJCZH-87022

VMware vSphere 6 Essentials

4Z2NR-FW35J-08DE8-QR3ZH-3VAK6
MA6EH-AKHE1-M81M0-AA9ZH-1KKL2
MC088-4YJD4-H8EK1-282Z4-0QRNF
5A4WH-4R116-H8038-KHA5H-AZA2D
HF4NK-D3LD6-485M8-HC0EM-82RJ2

VMware vSphere 6 for Retail and Branch Offices

JF6MU-0M38H-081K9-CC8EK-0QHH8
JC402-2L08J-481N1-RKAZ2-2QA12
NV2TH-41KD4-481W9-EU2EH-AQHL0
HC6R8-DTH9H-M8009-JR1Q6-032JD
HU20H-4HL9K-081H9-JL0EP-AYRKA

VMware vSphere 6 Essentials Plus

HU20H-DF2E4-488E0-EC3G0-1K000
HC088-6U1DN-08E98-3V9QK-07K60
4F4H2-0X113-H8078-J29G4-0Q226
0G2XU-A739J-M80N1-PJ9XK-AYH28
5Z2JR-AN28N-48521-UU2X2-2Z872

VMware vSphere 6 Essentials Plus for Retail and Branch Offices

MV6RU-8E092-H88D9-FT85H-AUKN2
MU0XK-62H91-088J1-7085K-2PU6D
HF6N0-8THDQ-48100-1897M-2CH02
JY61R-AYJDK-H8DN0-DT276-CAA08
HZ4D0-8309J-08E98-18AG0-CPUQF

VMware vSphere 6 Standard

HU408-2VJD5-M84P8-YC8Z0-AP0Q2
JA24R-8H1EL-48D59-0H3G2-0C8M4
JY2W0-4N010-M8DN1-598Z6-9V00A
MA4D0-0Z202-H8421-GA8XM-CLKMD
NF6J2-002D4-H84C1-8KA5H-12A28

VMware vSphere 6 Standard for Embedded OEMs

NV2JU-2T09K-H84W0-891GP-C6KJD
5Y2DA-AW28J-M88P9-QC0ZH-3FUJ4
JZ6MR-0ZH8H-M84L1-GL1QH-062M8
HY6NA-8HH45-489V0-L3CX4-2QK48
0F4E8-4R0DP-484R0-5V372-932N2

VMware vSphere 6 Enterprise

5C2JR-A2J1P-H89D0-1J870-2FA22
MY41R-48105-08109-NV3Q0-9URHA
NZ4D8-8YK5J-H85P1-5R2Q6-CVKHF
HU208-0118H-H84E8-LC256-9KK6D
4A6M8-2V007-H80W0-6H3NM-AK24F

VMware vSphere 6 Enterprise for Embedded OEMs

1Z088-673DP-H8DG8-VR9ZK-0ZHM4
MF2TU-4CJEP-48E40-AK170-AU0N0
HG61U-AAK5N-H8EU9-LL2XP-2Z8NA
5F6NH-FM35H-080T1-YC852-AY01D
MG0H0-89H5K-H8EZ0-RC3G0-2Z8MF

VMware vSphere 6 Enterprise Plus

1A2JU-DEH12-48460-CT956-AC84D
1C20K-4Z214-H84U1-T92EP-92838
5C6TK-4C39J-48E00-PH0XH-828Q4
MC28R-4L006-484D1-VV8NK-C7R58
4A4X0-69HE3-M8548-6L1QK-1Y240

VMware vSphere 6 Enterprise Plus for Embedded OEMs

HZ0H2-AW342-48EH1-631QP-02R6A
JF0MH-D105H-081E1-KT174-3ZUP4
4A28H-D1KE3-08EG9-ZKANP-9Q044
MC00U-81250-M8519-U32G6-0VHP0
5F4TA-2NH03-485M1-CV3Q0-CQU58

VMware vCenter Server 6 Essentials

5V48A-47L8L-48899-8A25K-0YHP2
4F0RK-40H87-M85X1-6HC76-AAHN6
0G240-40K94-08940-XA35K-37078
NG6W0-6L39L-489K0-D92N6-CLA6F
1V08A-6D253-48D80-H115P-36RQD

VMware vCenter Server 6 Foundation

JF0XR-FG19H-H84F0-DKCEM-8F244
HA2TK-89253-H84U0-VR1X2-3AA58
5Z6R0-DG35L-08111-899X4-3K822
JV4DA-FDK1L-080R1-T31E2-1P2L2
4G2J0-0X307-M84W1-233GM-8G0LF

VMware vCenter Server 6 Standard

HV418-4KKE0-M8DX9-639Q0-02AM6
1G6W2-AV0D5-H88Z9-A02NM-0LAH0
0C69H-0ZK07-M89F9-LV37H-2LA52
4G05A-6ZL15-480P0-18AZM-0Y8J0
MZ6WK-FL387-M88E8-A9172-CYA74

VMware vCenter Server 6 Standard for Embedded OEMs

4Z6HU-02H97-H8DD8-ET8Z2-03U64
5Y0JH-AM35P-M85P8-GJ374-128KF
1V4T2-A7K05-H8541-FU2X2-9ZAQ0
0A0RH-AGK9H-085P9-0A0X6-AGHLF
JA4E0-633D2-48E19-QVC56-3GUM4

Virtual SAN Standard

1Z2XR-D8195-H8E79-1CC7M-1LR24
5F0H2-0Q147-M8559-6K3N4-8Y2H8
4F24A-8QJDN-488C8-5V97P-3AU18
HG290-2TKEQ-08400-511QH-13842
JY2WH-DU05P-48DL9-D38QP-22HQ4

Virtual SAN

JF28A-8RLDN-M8EP0-300E2-36UKD
NG2JU-0DH0H-48E98-LL2NP-1ZU0F
5C2RK-6TJ07-08448-292N4-17A7F
1C018-8NJ8N-M8970-838EM-9F020
5A6XH-470DL-M8150-FJ870-AYRL0

Virtual SAN for Desktop

MA0TH-AXJ0J-48D01-W09Q0-CU83F
NG0X0-DH11Q-489Y0-YU2E2-AA0K2
0F2N2-A3J40-M88C9-WK8NK-1C01F
MZ2H8-4LL9N-08D00-1J8ZK-C6A7F
0V64R-AG01H-08190-FR0E2-12A38
// Edition Statement //
AppNee provides the VMware vSphere multilingual full installers and all versions universal license keys for Windows 32-bit and 64-bit.
// Installation Notes //
Download and install your desired VMware vSphere products from official site
Use the corresponding license key above to register program
Done
// Prompts //
Starting with version 6.5, VMware ESXi no longer supports vSphere Client to manage virtual machines. Instead, it starts to use the Web approach to manage.
// Download URLs //
Product
Version
Download
Size
VMware vSphere
v6.7
n/a
VMware vCloud Suite
n/a
VMware vCenter Server
n/a
VMware vSAN
n/a
(Homepage)
| | |
| --- | --- |
| | If some download link is missing, and you do need it, just please send an email (along with post link and missing link) to remind us to reupload the missing file for you. And, give us some time to respond. |
| | If there is a password for an archive, it should be "appnee.com". |
| | Most of the reserved downloads (including the 32-bit version) can be requested to reupload via email. |